Cabrillo National Monument Theater Closed on Selected Dates

Due to National Park Service alternate uses, the Cabrillo National Monument theater will be closed to the public on the following dates: October 28 all day, October 29 9am-12pm, November 6, 2014 12pm-5pm. We are sorry for the inconvenience.
Scavenger Hunt
Cabrillo National Monument is a great place for kids of all ages – there's plenty to learn!
The Scavenger Hunt is a fun way to learn about the park. Download the scavenger hunt, print out as many copies as you need, and bring it with you when you visit the park (along with writing implements!) to learn all about the natural and cultural resources at Cabrillo National Monument.


Did You Know?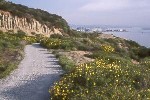 Did you know that the coastal sage scrub habitat found at Cabrillo National Monument is one of the most endangered ecosystems in the world? Only 10-15% of the original habitat now exists. Once the dominant ecosystem, the coastal sage scrub community now only exists in small remnant pockets.