Military History Building Closed until March 10, 2014

The Military History Building is undergoing a Seismic Retrofit (Earthquake Safety) and will be closed through 3/10/14. We apologize for this inconvenience.
Interior of Lighthouse Will Be Closed for Seismic Retrofit

The Lighthouse is undergoing a Seismic retrofit (earthquake safety). It is still open to the public, while the basement is worked on. The interior of the lighthouse will be closed once the basement is completed. Please call (619) 557-5450 for info.
Scavenger Hunt
Cabrillo National Monument is a great place for kids of all ages – there's plenty to learn!
The Scavenger Hunt is a fun way to learn about the park. Download the scavenger hunt, print out as many copies as you need, and bring it with you when you visit the park (along with writing implements!) to learn all about the natural and cultural resources at Cabrillo National Monument.


Did You Know?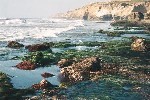 Did you know that the tidepools at Cabrillo National Monument are one of the last and best-preserved rocky Intertidal areas open to the public in Southern California?