Cabrillo National Monument Theater Closed on Selected Dates

Due to National Park Service alternate uses, the Cabrillo National Monument theater will be closed to the public on the following dates: September 20, September 27, October 28 - 29, November 6, 2014. We are sorry for the inconvenience.
Program Evaluation
ONLINE EVALUATION

We always look for ways to make the Education Program at Cabrillo National Monument better. As education professionals, we value your input. Please take a moment to complete the online evaluation
here
.
EVALUATION BY MAIL If you prefer, you may print out the following evaluation and return it to us by mail.
Dear Teacher:
We are glad you had an opportunity to participate in one of our Ranger-led programs. Please help us meet the needs of your students by taking a few minutes to complete this questionnaire. Please return evaluation to: Cabrillo National Monument, Education Office, 1800 Cabrillo Memorial Drive, San Diego CA 92106. Thank you for your time and help!
GENERAL INFORMATION
Name of School:
Teacher's Name:
Grade:
Program:
Date:
Park Ranger's Name:
RESERVATION SYSTEM
How did you find out about the program?
Was the reservation system easy for you?
Which handouts were helpful?
PROGRAM
In what ways was the program relevant to your curriculum?
Was the program appropriate for your grade level?
In what ways could we improve our program?
What other types of programs would you like to see developed?
What percentage of your students can identify three important things that they learned here?
Any other comments or suggestions?


Did You Know?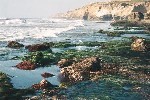 Did you know that the tidepools at Cabrillo National Monument are one of the last and best-preserved rocky Intertidal areas open to the public in Southern California?