Lighthouse Will Be Closed for Seismic Retrofit April 7 through May 16

The Lighthouse is undergoing a Seismic retrofit and will be closed from April 7 - May 16. Visitors can still access the Assistant Keepers Quarters exhibit from the south door, Lighthouse Comfort Station, and Kelp Forest Overlook. Call 619-557-5450.
Visitor Center Scheduled to be Closed May 19 through June 16

The Visitor Center will be undergoing a Seismic Retrofit and will be closed. Visitors will still be able to access the Auditorium, Ballast View and the East Patio. These dates are subject to change. Please call 619 557-5450 for updated information
National Parks Week

Come Join us during National Parks Week April 19-27. You can see the schedule here. More »
Professional Development
The Teacher-Ranger-Teacher (TRT) program provides opportunities for teachers to connect to the resources in a national park site. Teachers develop lesson plans based on their park experience for use in the classroom and parks. The program focuses on teachers from schools with ethnically diverse student populations, who have little or no experience with national parks or limited opportunity to explore the relevance parks can have in their lives and the lives of their students.
Application Process
Park TRT information is posted here and disseminated through teacher list serves. Teachers apply directly to the park by completing the application form below. The 2012 application is due February 17, 2012.
Application
-2012 TRT Application (PDF)

-2012 TRT Application (.docx Word Document)
-2012 TRT Application (.doc Word Document)

Program Background
Classroom teachers are detailed as park rangers to Cabrillo National Monument through an Intergovernmental Personnel Act (IPA) agreement between their own public school district and the National Park Service. This program links Cabrillo with teachers from underserved school districts. Teachers spend 8 weeks working at the park. They perform various duties depending on their interests and the needs of the park. During this time, the park provides a ranger uniform and a stipend ($300/week).
Once they return to school, teacher-rangers bring national parks into the classroom throughout the school year. During National Park Week in April, teacher-rangers wear their NPS uniform to school and engage students and other teachers in activities that relate to Cabrillo and other NPS sites.
Benefits
To Teacher-Ranger:
Obtain a wide range of new knowledge and skills by working with park staff and partners
Enhance their curriculum content areas
Gain access to a wide array of teaching resources and tools
Begin or extend a life-long personal connection with national parks
To schoolchildren:
Provide an opportunity to connect to their nation's heritage in new and creative ways
Learn about the possibilities for volunteering and paid employment with the National Park Service
Receive new tools and resources for exploring natural and cultural history
To Cabrillo National Monument:
Opportunity to reach under-served audiences
Build a network of enthusiastic, knowledgeable educators who are able to teach their students and colleagues about the ethics and issues of ecological and historic conservation
Enrich the park visitor experience through programming and visitor service offered by the teacher-ranger
Potential Park Experiences
Future TRT assignments and projects will depend upon the individuals hired and current park projects. Training in natural and cultural history and the National Park Service mission will be provided. Duties may include observing, preparing, and presenting public programs; staffing the visitor center; roving interpretation; assisting with field research; performing visitor surveys; evaluating school programs; providing community outreach; and working with other divisions in the park.
More Information
Contact Rick Jenkins, Education Coordinator by email or phone: 619.523.4573.

Did You Know?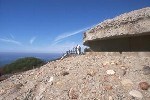 Did you know that in World War II, the Japanese Navy was ordered to avoid San Diego because of the coastal defense systems in place, some of which can still be seen today within Cabrillo National Monument?