Military History Building Closed Through March 19

The Military History Building is undergoing a Seismic Retrofit (Earthquake Safety) and will be closed while this work continues. We apologize for this inconvenience.
Lighthouse Will Be Closed for Seismic Retrofit March 24 through May 16

The Lighthouse is undergoing a Seismic retrofit (earthquake safety). The lighthouse is scheduled to be closed from March 24 through May 16. Please call (619) 557-5450 for updated information.
Visitor Center Scheduled to be Closed May 19 through June 16

The Visitor Center will be undergoing a Seismic Retrofit and will be closed. Visitors will still be able to access the Auditorium, Ballast View and the East Patio. These dates are subject to change. Please call 619 557-5450 for updated information
Plan A Field Trip
Education and Cabrillo National Monument
Cabrillo National Monument is a 160-acre unit of the National Park System, located at the southern tip of Point Loma in San Diego, California. The site commemorates conquistador and explorer Juan Rodriguez Cabrillo and preserves the Old Point Loma Lighthouse, the tidepools of the rocky intertidal zone, a coastal Mediterranean ecosystem, and coastal defense remnants. In addition, the site offers a tremendous view of San Diego Bay and provides good shore-based viewing of the winter Pacific gray whale migration.
Click here for driving directions to the park.
Educational Activities
Free on-site and off-site Ranger-led activities (reservations required)
Free pre- and post-field trip educational materials
Free films in the auditorium (reservations required)
Fee waivers for school groups visiting without a ranger
Tidepool permits
On-Site Ranger-Led Education Programs - For more information, click here.
Designed to support California frameworks for grades 2 through 6.
Program Cost: FREE (No fee waiver is necessary for groups attending a ranger-led program).
Each program is 60 minutes in length.
Times: Tuesday, Wednesday, Thursday ONLY, 10 AM-11 AM or 11:15 AM-12:15 PM.
Group Size: 35 students maximum, 1 adult per 5 students required.
Reservations are required.
Important: If a class arrives more than 15 minutes late, the program may be canceled.


Did You Know?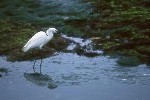 Did you know that over 200 species of birds have been recorded at Cabrillo National Monument, including land, shore, and sea birds.