Military History Building Closed until March 10, 2014

The Military History Building is undergoing a Seismic Retrofit (Earthquake Safety) and will be closed through 3/10/14. We apologize for this inconvenience.
Interior of Lighthouse Will Be Closed for Seismic Retrofit

The Lighthouse is undergoing a Seismic retrofit (earthquake safety). It is still open to the public, while the basement is worked on. The interior of the lighthouse will be closed once the basement is completed. Please call (619) 557-5450 for info.
Making a Reservation
Advance reservations are necessary for all Ranger-led programs, tidepool permits, and fee waivers.
---
To request a reservation, please visit our Education Reservation Website.

---
If you have any questions, please don't hesitate to contact us!
Address: Cabrillo National Monument
Education Programs
1800 Cabrillo Memorial Drive
San Diego, CA 92106-3601
Fax: (619)226-6311
E-Mail:
cabr.education@gmail.com
Please note that we need two weeks to process your request. A reservation confirmation and fee waiver will be mailed to you. Please ensure that all drivers in your group have a copy of the fee waiver.
Enjoy your field trip to Cabrillo National Monument!


Did You Know?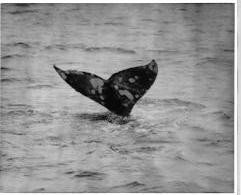 Did you know that Pacific Gray Whales make one of the longest migrations of all mammals? They travel approximately 12,000 miles from the Arctic to Baja California and back again, and can be seen on their southward migration from Cabrillo National Monument.