Cabrillo National Monument Theater Closed on Selected Dates

Due to National Park Service alternate uses, the Cabrillo National Monument theater will be closed to the public on the following dates: September 20, September 27, October 28 - 29, November 6, 2014. We are sorry for the inconvenience.
Making a Reservation
Advance reservations are necessary for all Ranger-led programs, tidepool permits, and fee waivers.
---
To request a reservation, please visit our Education Reservation Website.

---
If you have any questions, please don't hesitate to contact us!
Address: Cabrillo National Monument
Education Programs
1800 Cabrillo Memorial Drive
San Diego, CA 92106-3601
Fax: (619)226-6311
E-Mail:
cabr.education@gmail.com
Please note that we need two weeks to process your request. A reservation confirmation and fee waiver will be mailed to you. Please ensure that all drivers in your group have a copy of the fee waiver.
Enjoy your field trip to Cabrillo National Monument!


Did You Know?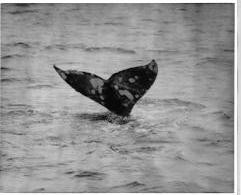 Did you know that Pacific Gray Whales were nearly hunted to extinction? They now number about 25,000, thanks in part to full protection by the International Whaling Commission.