Ranger Guided Activities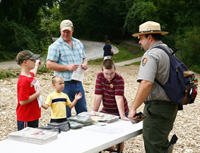 Attending a ranger-led interpretive program can increase your understanding and appreciation of Buffalo National River.

During the busy season, Park Rangers lead activities throughout the park free of charge and program schedules are available at the contact stations and visitor center and on bulletin boards around the park.
Throughout the year groups may arrange programs as staffing permits. Please call or email the park if you would like a park ranger to present a program for your group.
Upper District - Boxley Valley, Ponca, & Pruitt areas
These are some of the programs that may be offered during the summer season. Check posted schedules or call the Pruitt Ranger Station at 870-446-5373 for dates and times.
Fun in the Field at Ozark Campground - Join a park ranger and experience a fun way to learn about safety in the outdoors.
River's Edge Join a ranger to explore and learn all about the littlest of critters that call the river home.
Middle District - Tyler Bend area
These are just some of the programs that may be offered during the summer season. Check posted schedules or call Tyler Bend Visitor Center at 870-439-2502 for dates and times.

Collier Homestead Tour Tour the Collier house and grounds -- one of the last places to be homesteaded in the Buffalo River Valley. Explore the slowly changing life in the rugged Ozark Mountains.
Guided CaveTours are available again this year. Back O' Beyond and Silver Hill Caves provide the opportunity for visitors to experience a wild cave, see the underground beauty of the Ozarks, learn how caves form and understand their unique ecosystem. All equipment is furnished. A limited number of participants is permitted on each tour to preserve and protect the cave environment. A tour for your group may be arranged.
Lower District - Buffalo Point & Rush areas

These and many more programs may be available during the summer season. Check posted schedules or call Buffalo Point Ranger Station at 870-449-4311 for dates and times.
Ozark Music Come listen to local talent perform the music that has echoed through these hills for generations.
Colorful Waters Walk to one of the finest overlook views where we'll create a watercolor snapshot of our own perspective on America's first National River.
Did You Know?

Did you know that there are no dams found on the Buffalo National River. In fact, a number of people realized this and fought to keep the river untouched by dam builders. On March 1, 1972, Congress established Buffalo National River as the country's first national river.