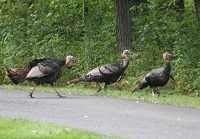 NPS photo
Lower District - Buffalo Point & Rush areas
Check posted schedules or call Buffalo Point Ranger Station at 870-449-4311 for more information.
Sunday, December 14, 2014
Christmas Bird Count
Join us for the 115th Audubon Christmas Bird Count on Sunday, December 14, 2014. Novices, experts and kids are all welcome. All you need is a bird identification book and binoculars, and appropriate clothing in the event of wet weather. We are not deterred by rain or light snow flurries … dress accordingly! This annual bird count is an American tradition dating to 1900, and the 38th year along the lower Buffalo River. The data is compiled for scientific analysis.