Buffalo National River Announce Limits in Vistor Services

As Buffalo National River anticipates the beginning of another season of floaters, hikers, and other visitors, things have altered to an extent where many things perhaps taken for granted in the past will be absent or at least altered. More »
Road Construction

CAUTION!! Road construction will begin in Boxley Valley on Monday, April 22, 2013. Parking areas for wildlife viewing will be installed to alleviate congestion and increase safety during high traffic periods. Construction may last 180 days. More »
Ranger Guided Activities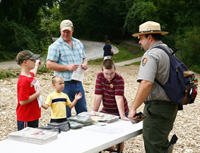 Attending a ranger-led interpretive program can increase your understanding and appreciation of Buffalo National River.

During the busy season, Park Rangers lead activities throughout the park free of charge and program schedules are available at the contact stations and visitor center and on bulletin boards around the park.
Throughout the year groups may arrange programs as staffing permits. Please call or email the park if you would like a park ranger to present a program for your group.
Upper District - Boxley Valley, Ponca, & Pruitt areas
These are some of the programs that may be offered during the summer season. Check posted schedules or call the Pruitt Ranger Station at 870-446-5373 for dates and times.
Parker-Hickman Homestead Tour - Take a step back in time and share the history of those that came before us in this Erbie Historic District.

Fun in the Field at Ozark Campground - Join a park ranger and experience a fun way to learn about safety in the outdoors.
Middle District - Tyler Bend area
These are just some of the programs that may be offered during the summer season. Check posted schedules or call Tyler Bend Visitor Center at 870-439-2502 for dates and times.

Collier Homestead Tour Tour the Collier house and grounds -- one of the last places to be homesteaded in the Buffalo River Valley. Explore the slowly changing life in the rugged Ozark Mountains.
Programs for Junior Rangers
To earn your Junior Ranger badge, you need to attend any two Ranger-led programs. These programs are presented especially for those interested in becoming a Junior Ranger.
Animal Tracks Using the tracks and signs left behind as they travel along the Buffalo River, learn about animal residents and their activities.
At the Waters Edge Explore the fascinating world of macro-invertebrates (insects and other aquatic creatures) to see what they tell us about the water quality of the Buffalo River.
Lower District - Buffalo Point & Rush areas

These and many more programs may be available during the summer season. Check posted schedules or call Buffalo Point Ranger Station at 870-449-4311 for dates and times.
Ozark Music Come listen to local talent perform the music that has echoed through these hills for generations.
Colorful Waters Walk to one of the finest overlook views where we'll create a watercolor snapshot of our own perspective on America's first National River.
Did You Know?

Did you know that Buffalo National River has housekeeping cabins that were constructed in the late 1930s by the Civilian Conservation Corps? These rustic cabins are available for lodging at Buffalo Point.