For Kids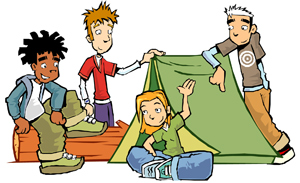 Saturday Programs in Ponca
Wondering what to do with the kids on a cold, wintery Saturday afternoon at 1 o'clock? Buffalo National River has the answer. Bring them to the Ponca Elk Education Center at the north end of Boxley Valley where the National Park Service is proud to offer "Second Saturday" in January, February and March. Participants can experience Buffalo National River during this fun indoor activity highlighting "safety in the outdoors" on January 12, February 9 and March 9, 2013.
Materials will also be provided for kids to have an opportunity to make crafts plus they will become a Junior Ranger receiving their badge and certificate. This event is open to the public at no charge so make your plans to join us at our "Second Saturday" events in the town of Ponca on Hwy 43. For information contact: Linda Bishop at 870-446-5373 or 870-365-2794 or call the Ponca Elk Education Center at 870-861-2432.

Buffalo National River Scouting Award
The patch is awarded to all Scouting and Venture group members that complete a 50-mile float/ hike and an approved 10-hour Service Project within 10 consecutive days.
Send requests to:
Buffalo National River
ATTN: Volunteer Coordinator
402 N. Walnut, Suite 136
Harrison, AR 72601
(870)449-4311
The initial request should include tentative dates, put-in and take-out locations, total number of participants to include child/adult ratio, group representative with phone number and email address, any logistical needs of the group that might be facilitated by the park, and if you would prefer the awards to be presented in person or mailed after the completion of the trip.
The trip report should be submitted within 10 days of the completion of the trip and safe return to the group's home station.
Did You Know?

Did you know that the longest cave in Arkansas is located within the boundaries of Buffalo National River? Fitton Cave, also called Beauty Cave, has 17 miles of mapped cavern with the possibility of more to discover!