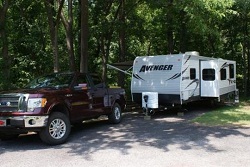 NPS
Buffalo Point is the only campground in the park which has hookups for RVs and reserves individual sites in advance. A map of all Buffalo Point campsites is available so you may choose a site that suits your needs.
Buffalo Point will gradually close campground loops through the fall. The launch area restroom, and "E" Loop campsites and restrooms will close by September 15, 2014. "A" Loop campsites and restroom will close by October 15, 2014. "D" Loop campsites and restroom will close by November 4, 2014. "B" Loop restrooms and "C" Loop campsites and restrooms will close by November 15, 2014. "B" Loop campsites will remain open for primitive camping throughout the winter.
Individual campsites, group sites and day use picnic pavilions at Buffalo Point may be reserved in advance at www.recreation.gov or by calling 1-877-444-6777. Individual campsites can be reserved up to 6 months in advance and pavilion and group campsites up to 1 year in advance. Please note a small fee is charged to make each reservation.
Drive-in campsites have water and electric hookups (30/50 amp) and are suitable for both RV's and tents. Walk-in campsites are for tents only. The campground has hot showers with four separate shower buildings. Each campsite has a picnic table, fire ring and lantern hook. RV dump station is available just outside the campsite on Highway 268. Up to six people are allowed for all individual campsites. Drive-in campsites are $22 per site per night while walk-in campsites cost $16 per site per night.
Group sites are available for 10 (minimum) to 25 (maximum) people per site at a cost of $3 per person per night.
Pavilions can be rented out for day use at the rate of $50 per day.
For more information about the Buffalo Point Campground, please call the Buffalo Point Ranger Station at 870-449-4311.