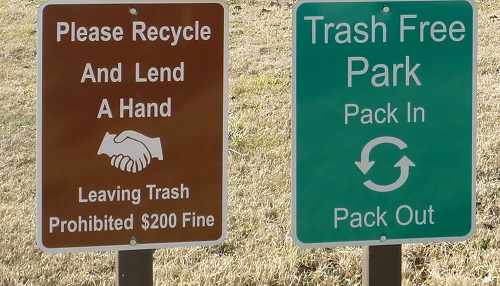 NPS
Public support is a critical component in the management of National Park Service lands. No other federal agency relies as heavily on the generosity and kindness of its visitors, and we thank you for your past support and look forward to future partnerships.
With the backdrop of declining budgets and staffing, Buffalo National River will depend upon the assistance of our visitors, volunteers and partners more than ever.
"GIVE US A HAND" - What you can do to help during your visit
Waste not, want not - Keep trash out of vault toilets. The toilets must be pumped periodically. Trash clogs the pumper. If open toilets are clogged with trash, they will be closed permanently.
Pack it in – Pack it out – Trash hauling contracts are expensive. Most of our trash collection is being eliminated as one cost saving measure. Visitors should be prepared to take their trash home for disposal and recycling. Remember: Arkansas state law requires anyone floating the river with food and/or beverages to carry and secure a mesh litterbag. See our River Rules page for more information.
Catholes – Many toilet facilities will be closed due to reduced budgets and fewer personnel to maintain them. Please dispose of human waste properly by digging a small hole. Leave No Trace principles recommend catholes should be at least 200 feet from the river or any water source. Cover and disguise hole. Toilet tissue should be packed out as trash, not buried.