"From Brown to Brown: Topeka's Civil Rights Story" Bus Tours Now Available

This new bus tour maps out locations in the city linked to local and national struggles for freedom and equality. Bus tours will be available Saturday, May 25, 2013 and June 1, 2013. Click on More for complete details of the tour. More »
2013 Teacher Ranger Teacher Opportunity

During the summer of 2013, the national NPS office of history and civics is seeking a Teacher Ranger Teacher to develop lesson plans that incorporate information about the National Park Service that meet common core standards, located in Topeka, Kansas. More »
Special Exhibits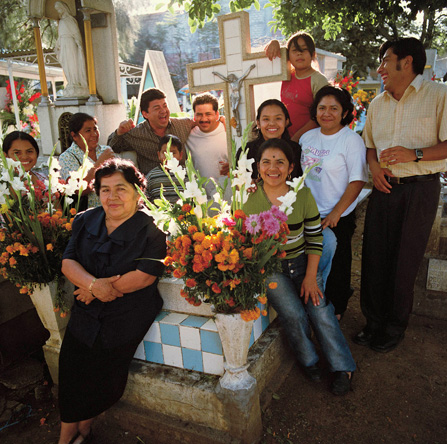 Denis Defibaugh
Día de los Muertos Photography Exhibit
November 2, 2012 to December 9, 2012
9 a.m. to 5 p.m.
Free
The works of photographer Denis Defibaugh will feature prominently as part of Topeka's Día de los Muertos celebration at this Friday's Artwalk, November 2, 2012 at 5 p.m., at Brown v. Board of Education National Historic Site. The exhibit is a photo journey of Defibaugh's Day of the Dead experiences in the Mexican state of Oaxaca. Over 90 of his photographs are published in Day of the Dead: Día de los Muertos. The exhibit will be on display daily at the museum through December 9, 2012.
Throughout the month students from Williams Science and Fine Arts Magnet Elementary School will participate in educational activities to learn more about the Hispanic culture and holidays. Día de los Muertos is celebrated in Mexico from October 31 to November 2 as a way to remember ancestors. Inspired by Defibaugh's images, students will decorate sugar skulls, make paper marigolds, and construct ofrendas to honor Dr. Martin Luther King Jr. and Abraham Lincoln. They will also make traditional Mexican hot chocolate, using a molinillos to mix their drinks. Finally, they will use speeches and banners from King and Lincoln and decorate them with papel picadoand other traditional artwork. These activities will highlight the different cultural traditions found in Topeka and show how diversity enriches our schools and parks.
For the celebration, the Western National Parks Association bookstore is stocked with many items and artwork purchased from the Free Trade Company and made by families from Oaxaca. Brightly colored art made with paper, metal and wood specific to the Day of the Dead celebration will be available,
Did You Know?

The Brown v. Board of Education NHS is the only unit of the national park system named after a U.S. Supreme Court case.--Brown v. Board of Education National Historic Site