Closed Thanksgiving Day

On Thursday, November 28, 2013, the site will be CLOSED for the Thanksgiving Day holiday. The site will re-open on Friday, November 29, at 9 a.m. More »
News
Kids Through Age 18 Can Ride Free on Fixed Route Bus Service Between May 15th and August 15th
Date: May 2, 2013
Topeka Metro is partnering with the Topeka and Shawnee County Public Library, the Kansas Children's Discovery Center, Brown v. Board of Education National Historic Site, and the Topeka Zoo to highlight summer activities that can be accessed by taking the Metro.
"This is a wonderful opportunity to connect kids to Topeka," said Metro General Manager, Susan Duffy. "There are lots of great places to go and do in Topeka. This summer we want kids to get out of the house and experience Topeka." Routes and schedules can be found at www.topekametro.org. Or call Topeka Metro Customer Service at 783-7000 for help with trip planning.
NPS\Cheryl DeShazer
Brown Site Welcomes 40 New Citizens
Date: March 28, 2013
Brown v. Board of Education National Historic Site staff welcomed 40 new American citizens to their National Parks on March 23 in what is becoming an increasingly frequent event at the Topeka park. Nearly 200 friends and family members were also in attendance. The park will play host to at least three Naturalization Ceremonies in the coming year.
Stressing the role and obligation American citizens have in protecting their country's parks and public lands, Chief of Interpretation Dave Schafer reminded America's newest citizens of what National Parks represent. Using examples from Manzanar, the USS Arizona, and Andersonville, Schafer demonstrated that National Parks help tell America's collective story and preserve it for the next generation.
Federal Judge Julie Robinson presided over the proceedings. She also reminded the new citizens of the significance in the Brown v. Board of Education case in assuring that all Americans should have access to education regardless of the color of their skin.
Park staff provided the new citizens with welcome packets to help them enjoy and explore their parks and public lands. The park partnered with the Daughters of the American Revolution and the League of Women Voters to provide additional materials and refreshments at the conclusion of the ceremony.
NPS\Cheryl DeShazer
Kansas Parks Celebrate St. Patrick's Day
Date: March 26, 2013
Near freezing temperatures did little to stop staff from the Kansas National Parks from participating in this year's St. Patrick's Day parade and celebration in Topeka. Staff from both Tallgrass Prairie National Preserve and Brown v. Board of Education National Historic Site paraded through Topeka's urban core to invite revelers to come out and experience their public lands at all of Kansas' five parks.
Accompanied by National Park Trust Buddy Bison and park mascot Monroe the Dog, park staff distributed thousands of park brochures, NPS trading cards, and other educational materials to the thousands of Kansans who lined the two-mile route.
This was the first year that any of the Kansas parks had participated in the annual parade. In looking for ways to build relevance and reach out to new communities, park staff has been seeking out fresh outreach tools. During the parade, staff contacted hundreds of people who were unaware of the fact that Kansas actually had national Park Service sites.
The parade marked the first use of one of Tallgrass Prairie NP's visitor buses as a parade float. During the parade, local youths and volunteers waved to those seated along the parade route. The bus is currently on loan to Brown v. Board of Education NHS for their use as part of the "From Brown to Brown" bus tour which will begin in April and will take park visitors to other civil rights sites associated with the park's story.
NPS
Visitors Dance the Night Away at First Community Sock Hop
Date: February 27, 2013
On Saturday February 23, Brown v. Board of Education NHS hosted its first community sock hop. Approximately 100 visitors braved the elements to enjoy a night of fun and music while students from the Kansas Ballet Academy and Accent Dance Academy demonstrated dances such as the stroll, the twist, the lindy and the locomotion. A local band by the name of Spare Parts entertained the crowd with music from the 1950s and 1960s as kids and adults competed at hula hoop. The night was a great success according to park historian Thom Rosenblum. "We wanted to offer the public a lighter side of the history while still maintaining the parks thematic integrity."
Music has the ability to unify society but it can also serve as a catalyst for youthful rebellion against traditional social norms. In its infancy, rock and roll reflected a unique harmony of various African American music genres that caught the attention of young adults to put on their dance shoes and twist the night away to the new sound.
The music industry labeled all African American music as race records. Therefore, early rock and roll was considered race music. However, the new sound transcended racial barriers as young adults from every ethnic group flocked to dance halls wanting to hear rock and roll. The success of rock and roll as an instrument for integrating young adults, and its label as race music, created a negative backlash from segregationists grasping to the idea of cultural traditions that separated whites and blacks in every aspect of society. Various groups organized boycotts of music stores and radio stations that played rock and roll. Despite their efforts, rock and roll survived.

Did You Know?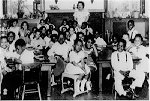 The Brown v. Board of Education U.S. Supreme Court decision involved more than 150 plaintiffs from five states.--Brown v. Board of Education National Historic Site More...