"From Brown to Brown: Topeka's Civil Rights Story" Bus Tours Now Available

This new bus tour maps out locations in the city linked to local and national struggles for freedom and equality. Bus tours will be available Saturday, May 25, 2013 and June 1, 2013. Click on More for complete details of the tour. More »
2013 Teacher Ranger Teacher Opportunity

During the summer of 2013, the national NPS office of history and civics is seeking a Teacher Ranger Teacher to develop lesson plans that incorporate information about the National Park Service that meet common core standards, located in Topeka, Kansas. More »
Jobs
All available jobs are announced through the Office of Personnel Management at
www.usajobs.gov
Job Title: Education Technician, GS-1702-05
Department: Department Of The Interior
Agency: National Park Service
Job Announcement Number: MWRC-13-OC-0079
SALARY RANGE: $31,315.00 to $40,706.00 / Per Year
OPEN PERIOD: Monday, April 15, 2013 to Monday, April 29, 2013
SERIES & GRADE: GS-1702-05
POSITION INFORMATION: Full Time - Temporary NTE one year
DUTY LOCATIONS: 1 vacancy in the following location:Topeka, KS United States
WHO MAY APPLY: United States Citizens
DUTIES: As the Education Technician you would prepare and present curriculum-based educational programs to elementary, middle, high school and college students. Duties may include assisting in the planning, researching and developing of programs. Communication skills are essential in order to make reservations, plan programs, set schedules and maintain a calendar of school group visits.
For more information visit https://www.usajobs.gov/GetJob/ViewDetails/341689200


Did You Know?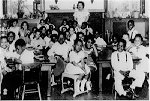 The Brown v. Board of Education U.S. Supreme Court decision involved more than 150 plaintiffs from five states.--Brown v. Board of Education National Historic Site More...