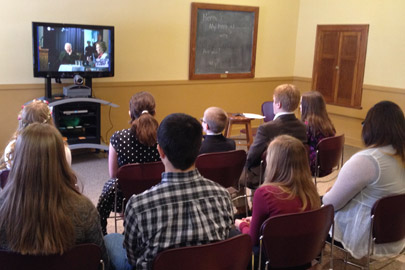 NPS Photo
Students Visit with President and Mrs. Carter
February 19, 2015
In recognition of President's Day, President and Mrs. Carter spoke to an auditorium of invited guests and school children in Plains, Georgia. They reflected on their time in the White House and the legacy of public service they hoped to inspire in the next generation of America's leaders. The event was facilitated by Jimmy Carter NHS.
Hosted on the Northeast Region's videoconferencing bridge, Jim McGettigan and the NER IT Division made it possible to broadcast the live event to student participants at Brown v. Board of Education NHS over nine hundred miles away.
Eighth-graders from Royal Valley Middle School braved snowy roads to travel to Brown v. Board of Education NHS and participate in the program. It was also their first opportunity to speak to and interact with a President and First Lady during the question and answer session.
Growing up in Mayetta, Kansas (pop. 351), the rural middle school students rarely interact with former leaders of the free world, so they were understandably excited to take advantage of the NPS event, as was their history teacher, Nathan McAlister. McAlister regularly brings students to the Brown v. Board site and seeks out exceptional educational experiences for his rural community's students, with such success that he was named National History Teacher of the Year in 2010.
The event was hosted by the NER IT Division and videoconferencing bridge, and facilitated by Jimmy Carter NHS, the WASO Office of Interpretation, Education and Volunteers, Little Rock Central High School NHS, and Brown v. Board of Education NHS.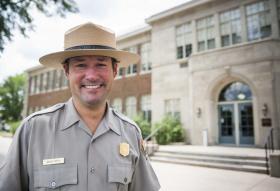 The Topeka Capital-Journal/Emily DeShazer
David Smith Named Joshua Tree Superintendent
July 18, 2014
David Smith has been selected as the new superintendent for Joshua Tree National Park in California. Smith is currently the superintendent of Brown v. Board of Education National Historic Site in Topeka, Kansas. He will begin his new position in mid-September, replacing former superintendent Mark Butler, who retired earlier this year.
"David's experience and proven leadership will be a great asset for the park," said Pacific West Regional Director Chris Lehnertz. "His background working in diverse parks with many different types of resources and his proven success in building collaborative relationships both inside and outside government makes him a great fit. It is a bonus that David considers Joshua Tree to be 'his dream park.' It is where he signed on as a park volunteer, and in 1998, got his first permanent position with the National Park Service."
During 22 years with the National Park Service, Smith has served as a law enforcement ranger, a park interpreter, and a biological technician in a host of western parks. Before coming to Kansas, he served in Washington, D.C. as legislative staffer on the House Natural Resources Committee as part of the NPS Bevinetto Fellowship program.
Smith arrived in Washington having worked as district naturalist at Grand Canyon National Park, interpretive specialist at the Juan Bautista de Anza National Historic Trail, and as a law enforcement ranger at Cabrillo National Monument and Arches and Canyonlands National Parks.
"I grew up climbing and camping in what is one of America's hidden jewels: Joshua Tree National Park," said Smith. "Helping to lead Joshua Tree in the coming years is an honor. The staff at Joshua Tree are committed to caring for the park and its visitors. They are leaders in environmental education, scientific research, as well as search and rescue, resource protection, and facilities management. I am looking forward to the privilege of working with such an amazing cadre of individuals."
Smith earned a BS in forestry/developmental studies from the University of California, Berkeley as well as an MS in resource interpretation from Texas State/Stephen F Austin University. He is a graduate of the NPS GOAL leadership program and is the national winner of the Freeman Tilden Award for excellence in interpretation. He is also featured in a 2013 TEDx talk on civic engagement and national parks (http://www.youtube.com/watch?v=YZ2nVnleq4o).
Smith grew up in northern San Diego County, California, which is still home to his extended family. He will be joined by his spouse and their two children when he begins his tour of duty in mid-September. Smith's hobbies include rock climbing and trail running. He is looking forward to finding a local church, maintaining his ties with Rotary and becoming an active member of the greater Joshua Tree National Park area communities.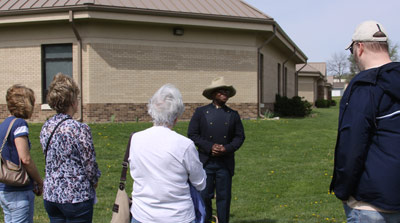 NPS/Lisa Stork
Living History Brings Civil Rights to Life
Date: April 28, 2014
On April 26, visitors leisurely strolled five blocks with uniformed park rangers from the historic Ritchie House to the formerly segregated Monroe Elementary School, meeting five costumed reenactors along the way. Beginning at the home of prominent abolitionists and operators on the Underground Railroad and ending at a formerly segregated elementary school, visitors walked symbolically through time from the birth of the Civil War to the birth of the civil rights movement.
Operated by the Shawnee County Historical Society, the Ritchie House was home to John and Mary Jane Ritchie, early settlers of Topeka who immigrated to Kansas Territory in 1855 to aid the free state cause. The Ritchies were comrades of John Brown and active in the Underground Railroad. After the Civil War the Ritchies gave away and sold land to African Americans seeking a new start in Kansas. This led to a predominantly black neighborhood that came to be known as Ritchie's Addition. Built in 1926 as part of a massive school expansion project, the Monroe Elementary school was built on land once donated by Ritchie. Monroe was one of the four African American elementary schools operating in Topeka in 1951 when the Brown v. Board of Education lawsuit was filed. The restored school now serves as the visitor center for the national historic site.
Beginning with abolitionist John Ritchie in 1854, visitors met five characters that portrayed evolving views of race and freedom in Kansas. The Lecompton Reenactors and National Park Service rangers portrayed characters including Ritchie, free-state advocate James H. Lane, women's rights supporter Clarina Nichols, and Exoduster Nathan Holder. The concluding character, portrayed by Ranger Joan Wilson, was Julia Roundtree, an African American educator and activist in Topeka who discussed the lawsuit filed in 1951 that would end legal segregation.
The program was a cooperative effort by the National Park Service, the Shawnee County Historical Society, the Lecompton Reenactors, Western National Parks Association, and Monarch Transportation.
FEATS After-School Experiential Program
March 3, 2014
Educational staff at Brown v. Board of Education National Historic Site recently partnered with Harvesters, the local community food network, to provide 'Kids in the Kitchen' program to area students.
This partnership is part of a long-term relationship between the park and students at Williams Science and Fine Arts Magnet School. Williams Magnet School opened in 1996 as a result of the decision in Brown III. In 2011, Brown v. Board of Education NHS began a collaboration with Williams Magnet School, providing weekly after school programs to aid in student enrichment. This program is called FEATS - Families Empowered by Additional Teaching of Students.
As part of the Harvesters program, students were taught about purchasing local fruits and vegetables in season in order to maximize nutrition. Then, following a recipe and measuring ingredients the students were able to create their own healthy snacks.
Throughout the year, the park provides activities to the 3rd, 4th, and 5th graders to teach them about the National Park Service. They learn the mission of the National Park Service is to protect and preserve land, animals, plants, water and history for the education and enjoyment of others. The students become familiar with other parks across Kansas and the nation along with the available resources and activities on-line. They are given Ranger books where they discover and explore the variety of exciting jobs available and performed by rangers including a helicopter pilot.
During the last year, staff at Brown v. Board of Education NHS have used the national campaign 'Healthy Parks and Healthy People' in order to promote activities and lifestyles. Recently, staff had activities such as 'Drums Alive' and 'Human Geometry' to promote learning and movement.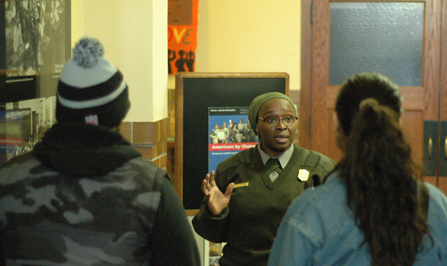 Youth Council Provides Feedback to Site
February 27, 2014
Park Ranger Joan Wilson has taken the lead in engaging Brown v. Board of Education National Historic Site's first Youth Leadership Advisory Council (YLAC). The council, made up of local high school students, is actively engaged in helping the park chart out a course to success in reaching new audiences.
Following up on NPS Director Jon Jarvis' Call to Action, the park has looked for new ways to engage local youth in the future of their National Parks. Recent demographic research shows that the majority of park visitors tend to be older and less economically, ethnically, and racially diverse than America's population is at large. To confront that, many parks have formed youth councils to help provide direction on how the NPS can best meet the needs of America's next generation.
The Youth Leadership Advisory Council has been providing park staff crucial feedback on the effectiveness of park programs and exhibits. Additionally, they are helping to plan and design an event to help commemorate the 60th anniversary of the Brown v. Board of Education decision.
Kids Through Age 18 Can Ride Free on Fixed Route Bus Service Between May 15th and August 15th
Date: May 2, 2013
Topeka Metro is partnering with the Topeka and Shawnee County Public Library, the Kansas Children's Discovery Center, Brown v. Board of Education National Historic Site, and the Topeka Zoo to highlight summer activities that can be accessed by taking the Metro.
"This is a wonderful opportunity to connect kids to Topeka," said Metro General Manager, Susan Duffy. "There are lots of great places to go and do in Topeka. This summer we want kids to get out of the house and experience Topeka." Routes and schedules can be found at www.topekametro.org. Or call Topeka Metro Customer Service at 783-7000 for help with trip planning.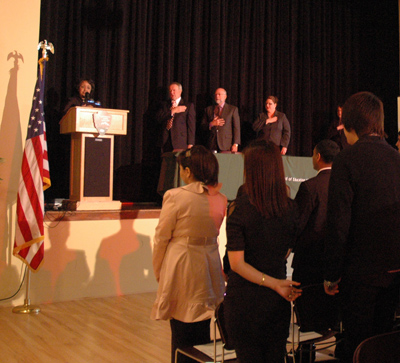 NPS\Cheryl DeShazer
Brown Site Welcomes 40 New Citizens
Date: March 28, 2013
Brown v. Board of Education National Historic Site staff welcomed 40 new American citizens to their National Parks on March 23 in what is becoming an increasingly frequent event at the Topeka park. Nearly 200 friends and family members were also in attendance. The park will play host to at least three Naturalization Ceremonies in the coming year.
Stressing the role and obligation American citizens have in protecting their country's parks and public lands, Chief of Interpretation Dave Schafer reminded America's newest citizens of what National Parks represent. Using examples from Manzanar, the USS Arizona, and Andersonville, Schafer demonstrated that National Parks help tell America's collective story and preserve it for the next generation.
Federal Judge Julie Robinson presided over the proceedings. She also reminded the new citizens of the significance in the Brown v. Board of Education case in assuring that all Americans should have access to education regardless of the color of their skin.
Park staff provided the new citizens with welcome packets to help them enjoy and explore their parks and public lands. The park partnered with the Daughters of the American Revolution and the League of Women Voters to provide additional materials and refreshments at the conclusion of the ceremony.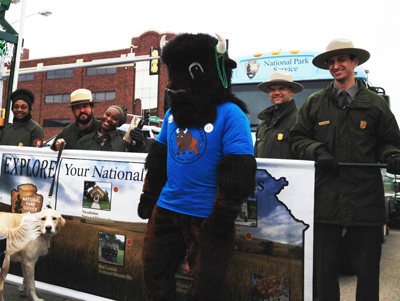 NPS\Cheryl DeShazer
Kansas Parks Celebrate St. Patrick's Day
Date: March 26, 2013
Near freezing temperatures did little to stop staff from the Kansas National Parks from participating in this year's St. Patrick's Day parade and celebration in Topeka. Staff from both Tallgrass Prairie National Preserve and Brown v. Board of Education National Historic Site paraded through Topeka's urban core to invite revelers to come out and experience their public lands at all of Kansas' five parks.
Accompanied by National Park Trust Buddy Bison and park mascot Monroe the Dog, park staff distributed thousands of park brochures, NPS trading cards, and other educational materials to the thousands of Kansans who lined the two-mile route.
This was the first year that any of the Kansas parks had participated in the annual parade. In looking for ways to build relevance and reach out to new communities, park staff has been seeking out fresh outreach tools. During the parade, staff contacted hundreds of people who were unaware of the fact that Kansas actually had national Park Service sites.
The parade marked the first use of one of Tallgrass Prairie NP's visitor buses as a parade float. During the parade, local youths and volunteers waved to those seated along the parade route. The bus is currently on loan to Brown v. Board of Education NHS for their use as part of the "From Brown to Brown" bus tour which will begin in April and will take park visitors to other civil rights sites associated with the park's story.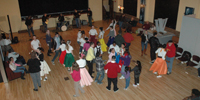 NPS
Visitors Dance the Night Away at First Community Sock Hop
Date: February 27, 2013
On Saturday February 23, Brown v. Board of Education NHS hosted its first community sock hop. Approximately 100 visitors braved the elements to enjoy a night of fun and music while students from the Kansas Ballet Academy and Accent Dance Academy demonstrated dances such as the stroll, the twist, the lindy and the locomotion. A local band by the name of Spare Parts entertained the crowd with music from the 1950s and 1960s as kids and adults competed at hula hoop. The night was a great success according to park historian Thom Rosenblum. "We wanted to offer the public a lighter side of the history while still maintaining the parks thematic integrity."
Music has the ability to unify society but it can also serve as a catalyst for youthful rebellion against traditional social norms. In its infancy, rock and roll reflected a unique harmony of various African American music genres that caught the attention of young adults to put on their dance shoes and twist the night away to the new sound.
The music industry labeled all African American music as race records. Therefore, early rock and roll was considered race music. However, the new sound transcended racial barriers as young adults from every ethnic group flocked to dance halls wanting to hear rock and roll. The success of rock and roll as an instrument for integrating young adults, and its label as race music, created a negative backlash from segregationists grasping to the idea of cultural traditions that separated whites and blacks in every aspect of society. Various groups organized boycotts of music stores and radio stations that played rock and roll. Despite their efforts, rock and roll survived.