The Mission Statement of the National Park Service states: "The National Park Service preserves unimpaired the natural and cultural resources and values of the national park system for the enjoyment, education and inspiration of this and future generations. The Park Service cooperates with partners to extend the benefits of natural and cultural resource conservation and outdoor recreation throughout this country and the world."
Environmental Commitment Statement (PDF, 13KB)
Here are some things Brown v. Board of Education NHS is doing to protect and preserve resources that have been entrusted to us:
Green Procurement
All paper products purchased by the park are made of recycled material. This includes toilet tissue, paper towels, and office paper supplies. Before any purchases are made for building supplies, green purchasing is researched and used where possible. Computer and office equipment are Energy Star compliant.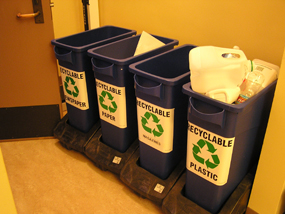 National Park Service/Treva Harris
Recycling
The park recycles many consumer waste products. Examples include plastic, newspaper, white paper, cardboard, aluminum, magazines, batteries and printer toner. Shredded paper is taken to the local animal shelter for use in animal pens. Any excess park property is donated to another park or non-profit organization for re-use when possible.
In 2008 the park recycled 49% of total consumer waste. This means less trash in the landfill. By 2010 the park hopes to reach a recycling rate of 60%. The park has purchased recycling containers to use in all offices and two large recycling centers to recycle larger items. Park visitors are encouraged to recycle as well.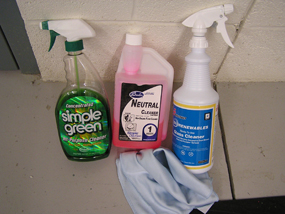 National Park Service/Treva Harris
Reduced Toxins
Brown v. Board of Education NHS employees have switched to safer green products, replacing the more toxic or harmful items once used. At this time several cleaning products have been replaced with bio-based or less toxic products. The goal is to use exclusive "green" cleaning products by the end of 2009.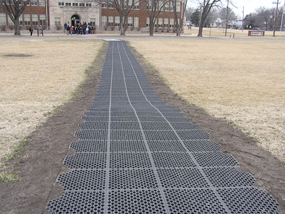 National Park Service/Treva Harris
Grounds Maintenance
The park does not use any fertilizers or herbicides on lawns. All grass clipping are mulched back into the ground and during the fall the leaves are also mulched back into the ground. This eliminates 10-20 bags of material per week going into the landfill and also serves as a natural fertilizer for the lawns. The park's picnic tables as well as park benches are made of recycled material. A pedestrian pathway was installed in October of 2008. The pathway is 160 feet in length and 6 feet wide. The material used is made of 100% recycled material. Tire stops made of 100% recycled material were purchased and installed on the parking lot in 2008.
Building Materials and Equipment
The park has replaced all incandescent bulbs with compact fluorescent bulbs. Personnel are encouraged to turn off lights when leaving rooms, with several areas on motion activated lighting. The public restrooms have motion sensor activated faucets, toilets and hand dryers. All toilets are low consumption water usage.
All carpeting installed in the building is made of recycled material. The restroom stalls are also made of recycled material.
A geothermal heating and cooling system was installed during the renovation of the site(2001-2004). This system eliminates the need of a boiler and chiller and uses the ground temperature as a source for heating and cooling the building. A continuous loop of a water/glycol mix is circulated through seventy 250' deep wells and 13 air handling units. This same loop also serves an under floor heating system in private office spaces. This radiant heat adds to the room temperature during colder winter months.
Green Projects
As part of the parks continuing efforts to be as "green" as possible, several projects are in the planning stages. These projects are:
Replacing the elevator hydraulic fluid with a bio-based oil.

Replacing existing windows and storm windows with a more energy efficient windows.

Upcoming Recycling Day!