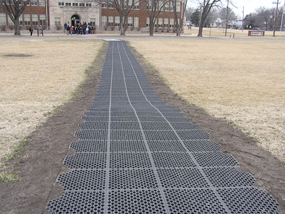 National Park Service/Treva Harris
Grounds Maintenance
The park does not use any fertilizers or herbicides on lawns. All grass clipping are mulched back into the ground and during the fall the leaves are also mulched back into the ground. This eliminates 10-20 bags of material per week going into the landfill and also serves as a natural fertilizer for the lawns. The park's picnic tables as well as park benches are made of recycled material. A pedestrian pathway was installed in October of 2008. The pathway is 160 feet in length and 6 feet wide. The material used is made of 100% recycled material. Tire stops made of 100% recycled material were purchased and installed on the parking lot in 2008.
Building Materials and Equipment
The park has replaced all incandescent bulbs with compact fluorescent bulbs. Personnel are encouraged to turn off lights when leaving rooms, with several areas on motion activated lighting. The public restrooms have motion sensor activated faucets, toilets and hand dryers. All toilets are low consumption water usage.
All carpeting installed in the building is made of recycled material. The restroom stalls are also made of recycled material.
A geothermal heating and cooling system was installed during the renovation of the site(2001-2004). This system eliminates the need of a boiler and chiller and uses the ground temperature as a source for heating and cooling the building. A continuous loop of a water/glycol mix is circulated through seventy 250' deep wells and 13 air handling units. This same loop also serves an under floor heating system in private office spaces. This radiant heat adds to the room temperature during colder winter months.
Green Projects
As part of the parks continuing efforts to be as "green" as possible, several projects are in the planning stages. These projects are: