January 9, 2012
What a lousy way to ring in the New Year. For the Park Service family, the death of NPS Ranger Margaret Anderson was a sad reminder of why we have law enforcement rangers protecting our park resources as well as our visitors. Our park staff gathers with the thousands of other rangers and park personnel across the nation in mourning the loss of this courageous woman. A graduate from Kansas State, Margaret died in the line of duty in an effort to protect the visitors of Mount Rainier National Park. She leaves behind two small children as well as her husband who continues to serve as a park ranger at the park.
For our park neighbors, New Year's was also an especially tragic time. The robbery at Mo's Express and the resulting assaults and murders have cast a noticeable veil of sadness on the neighborhood. Our hearts go out to our neighbors and friends who are struggling with the fear, pain, and anguish brought upon by this brutal act of violence in our community.
In troubled times, parks have always made me feel safe. I have served as a park ranger for over twenty years, working in parks as diverse as this country. Although they were all special places that helped tell the story of our shared history, they always offered me and my family a degree of protection I didn't necessarily have in town. When I would take my family climbing at Joshua Tree National Park in the California desert, I always knew that we were safe. When I walked up the steps to the Lincoln Memorial in Washington DC, on the battlefield of Gettysburg in Pennsylvania, or the parade grounds at Fort Scott in Kansas, I knew I was on hallowed ground. Today, when I greet school groups at Brown v. Board of Education, I always make sure that they know that this is their park and that it is a place where they can come and learn. But I also remind them - this is a place where they know that they are safe.
It will take a long time for East Topeka to recover from the recent acts of violence. But we can take heart in what our forefathers and mothers and our neighbors and friends have done and continue to do to help our community and country. This historic site and park continue to stand as symbols of the battles we all must fight to end discrimination and to fight for civil rights. It also should stand as a symbol of what we also must stand for and fight to protect.
This last Sunday at 5PM, we gathered together to honor the life of Margaret Anderson and take a stand against the violence which has plagued our neighborhood. We met on the steps of the park visitor center, thankful for what we have and remembering those that we have lost. It is my sincere hope that vigils like this one will become increasingly rare.
Supt. David Smith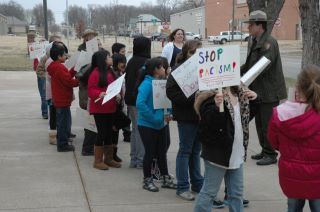 NPS\Justin Sochacki
January 13, 2012
I was barely a year old the day the world lost Martin Luther King, Jr. Although I still couldn't walk, my parents can remember the day vividly. In a few short years, they saw the assassinations of President Kennedy, Malcolm X, and now MLK. They knew that these men talked about a better world, where all men could live as brothers. They also saw each of them struck down in their prime. It was a world full of promise and horror, of incredible potential and devastating sadness. It was a day that they would never forget.
By the time I was old enough to grasp who Martin Luther King, Jr. was, the world had moved on from that tragic day in Memphis in 1968. Although I knew there was a time when schools were segregated because of race, it was distant history and something that would not affect my life. My friends were brown and black and white. When I went to see my mom at work, she sat and worked with people that looked just like my friends. There is no doubt that issues of inequality were present and had a profound effect on many people's lives. But for me, they were beyond my horizon. Other than a reference or two in a history book these were not things that we talked about at school.
When my children go out into the community, when they go to school, when they dream about their futures, they see and do and think things that were unfathomable to children just a few generations back. They can no more condone or justify segregated schools then they could imagine treating people differently because of their hair color or their height. But at the same time, they know that segregation existed and that racism still exists today. In school, they study about the long march to equality. They know about MLK and have learned to honor his memory. They come to the park and read the exhibits, they hear the rangers, and they understand how far we have come.
The world that we are confronted with today - with all of its flaws, problems, and hardships - is light years from the world that MLK saw in his final days on earth. During the next week, the park marks the contribution Martin Luther King, Jr. made to our country and the world. This is our chance as Americans to look back on where we have come from. More importantly, it is also a time for looking to where we yet need to be. As the school buses have pulled up to the park this last week, I have watched scores of school children at the site learn about MLK, sing songs of protest, and practice forms of peaceful protest. They continue to find injustice in this world and they let us know about it. The battle goes on.
The road to equality is a long one. Please consider joining us here at the park on Monday, January 16, for a variety of activities to help learn about the incredible journey we have taken. Come hear some of MLK's incredible speeches. Learn what it means to be a non-violent demonstrator in the fight for equality. Join a ranger in learning how MLK used the legacy of t the Brown case to help push us all down the road to equality. Activities go on all day, from 9 a.m. to 5 p.m. And, as always, the park is free. We can't wait to see you!
Please click here for more information about the activities on January 16, 2012.
January 20, 2012
The weather is cold, the pipes just froze at my house, and there is no sign of spring on the horizon - but things are heating up quickly at the park. This weekend, we are bringing together over forty people - historians, teachers, civic activists, business leaders - all with the purpose of helping us guide the park through the next decade and into the future. For the next three months, we will collaborate, imagine, dream, argue, and hammer out a plan that will become the guiding document for how we pursue education and interpretation at Brown v. Board of Education NHS.
The Long Range Interpretive Plan is a standard tool in the bag of tricks every National Park uses to help tell the story of America's crown jewels. This weekend, we are bringing in park rangers from the Harpers Ferry, West Virginia, interpreters from Tallgrass Prairie NP and the St. Louis Arch, as well as our private contractor Interpretive Solutions from Westchester, PA. Using their well-honed skills, they will take us on a journey of discovery, helping show us how we can reach the broadest slice of the visiting public with the story of the history of racial segregation, the effects of Brown on public education, and where we still need to go as a nation.
So far, in listening sessions here at the park as well as at the library, we have heard some great ideas. One of my favorite has been trying to recreate a 1952 era classroom here at the park. Other ideas have included finding ways to work with schools to bus their classes here to the park. In an era of big budget cuts, the $70 involved in a bus trip to the park is too much of a barrier for many schools. Maybe that's a place where we can help. Other ideas we have heard have been to create more after school programs for local school kids, to create a jobs corps for area youth to work with summer school programs, and to reach out to Hispanic audiences and help tell their stories for civil rights here in Topeka.
Whatever happens, we are committed to telling the story of Brown and helping to make it resonate with our community here in Topeka as well as the rest of the country. Maybe even the rest of the world. I just finished reading a letter from a park visitor from Saudi Arabia. After visiting Brown v. Board of Education NHS and then heading on down to Little Rock Central High School NHS, he had an epiphany. Although he had never thought of discrimination as existing in his home country, he began thinking about how women - who are prohibited from driving or making many life decisions without the consent of a male relative - also face civil rights challenges that he had never before considered. He saw similarities in the struggle of African American kids here in Topeka with some of the women he knew back home. It took a trip to a little National Park in Topeka to help him confront issues of discrimination seventy-five hundred miles away. So maybe we have an international story to tell as well. Let's see where this planning process takes us!
January 27, 2012
About ten years ago, my family had the chance to live and work in the San Francisco Bay Area for the National Park Service. I was working as a ranger on a historical trail project and my spouse took a job doing law enforcement on Alcatraz Island, part of the Golden Gate Recreational Area. When I heard about the Alcatraz job, I thought to myself, "Well, that's going to get old quickly." At the time, I couldn't even figure out why the place was a National Park.
When I thought of Alcatraz, I thought of a prison on a little island. Imagine my surprise, on my first tour of the island, when I discovered that it was so much more than that. The island was like an onion, with layer upon layer of history and stories. It was a stopping ground for American Indians as they traversed the bay for food and trade for thousands of years. During the Civil War, it served as a military prison for Confederate soldiers. For the remainder of the 19th century, it stood as a military fort protecting the San Francisco Bay from any potential foreign invasion. With the arrival of the federal prison, the island saw the development of distinct architecture, exotic gardens, and a community of prisoners, wardens, and their families who would call Alcatraz their home. Dig down a little deeper and you will find out more about the United Indians of All Tribes occupation of the island in 1969. Then there's the arrival of the Park Service, all of the movies, millions of visitors, and so on and so on. So much history in one small island!
I bring this up simply because the same holds true here at Brown v. Board of Education NHS. Yesterday, the halls of the park were full of the joyful sounds of three octogenarians who happened to be passing through town on their way back to California. For over an hour, they told us their personal stories of having attended this very school - back in the 1940's - and what it meant to be in a segregated school on the cusp of the civil rights movement. Here was another layer of history and of stories that we seldom think about. Earlier in the day, I was over at the site of Constitutional Hall on Kansas Ave. in downtown Topeka. As the home of the Topeka Constitutional Convention, the site marks the place where Kansans gathered to declare the territory a place that should be free of slavery. The site is now recognized as a part of the National Park Service's Underground Railroad Network to Freedom for its role in the Free State movement. The part abolitionists played in helping to make Kansas a free state, allowing African Americans to settle as freemen in East Topeka, was the reason why Monroe Elementary became a predominantly black school - and eventually a segregated school. Another layer of history.
Our National Parks may often commemorate a particular moment in time. Think about three of them: Golden Spike NHS in Utah, Ft. Sumner NM in the Charleston Bay, and the Statue of Liberty NM in New York Harbor. They are little parks that seem so limited, so specific in what they tell. But if you look deeply, they are so much richer than just that - so much more than the day that a golden spike was driven into the ground, a month when a federal fort was fired on, or the years that a monumental statue was built. These places tell a story that resonates today in so many more ways. They tell about the push for technological progress, the American battle of the role of the state, the role of immigration on the American spirit. That same richness is here today at 1515 SE Monroe Street. If we expose the layers before the U.S. Supreme Court cast their decision, we see connections leading us all the way back to the settlement of Kansas. If we look forward, there we see the struggle that Americans - as well as people all around the world - are engaged in to acknowledge their own civil rights. That is why we are a National Park.
February 3, 2012
Maybe in some mystical land, there are families where children and parents like to do the same thing. A place where there is no fighting over which restaurant to go to, where the family all likes the same TV shows, and where common interests are shared. Brigadoon?
Yes, I believe this is a mystical and far off world, because it bears no resemblance to mine. Like most parents, my ability to do things that I really enjoy seems constantly compromised. There seems to be a direct correlation between the things I like and the things that really bore my children. If I want to go for a walk down by the river and ask my children to come, they typically would rather chew on rocks and run off to play on the Wii. If I suggest we watch an Alfred Hitchcock movie or something with John Wayne, they let me know that Sponge Bob is the only thing that is acceptable to them. If I suggest a trip to the salad bar for lunch, they recommend hot pockets and pancake wrapped sausage on a stick.
It is seldom that our likes and dislikes work in any sort of harmony. Luckily, I'm the dad so, I always get my way. Yeah, right. More often than not, it's easier to give in than to fight for the things that I want. Which means in the end, I spend a night playing some inane game on Wii, watching a ridiculous round of Sponge Bob, Squidward, and that ludicrous starfish while we eat a dinner of deep fried and battered pork dipped in maple syrup?
Well, this month, things are going to change. I actually found something that we all like to do. Beginning this Saturday and running through the end of the month, the park will be hosting a series of films that highlight some part of the African American experience in the United States. It's part of what we are trying to do to make Black History Month meaningful to more of our park neighbors. All the films are free; we will have popcorn and drinks, and these are actually movies that my kids want to see. This Saturday, we will be showing Remember the Titans - the story of a recently integrated high school football team and their battle to overcome racism and prejudice. Later in the month, it's the Princess and the Frog - the first Disney movie to highlight an African American princess. That is followed by the classic Look Who's Coming to Dinner (my kids like all of the shots of San Francisco since they were born there). We end the month with the classic To Kill a Mockingbird, which my daughter loves because she wants to be just like Boo Radley.
So, my plans for this Saturday are to have a healthy breakfast, get the kids on their bikes and go for a good, long ride on the Shunga Trail, and then ride into the park for a great afternoon movie. Realistically, it's probably not going to work quite this way. If I know my family, the kids will end up pining for Frosted Flakes and our morning bike ride will end up being a car trip to the nearest basketball court to shoot some hoops. But at least I know, for two hours that afternoon, we will all sit down together, watch a great movie, and learn something about how far we have come.
February 24, 2012
I was musing the other evening, as I'm apt to do, on finances. We have two kids, a mortgage, and a lot of college tuition bills slated to arrive in just a few years. I was thinking back to when I was about the age my son is right now. I worried a lot about finances even then. I turned to my parents and asked them if I were to go to college - which was certainly not a foregone conclusion based on either my academics or my family's history - how would I ever find the money to do it? There was no question that I would have to work for it, that I would try to get as many scholarships as I could, and as a last resort, maybe even take out a loan. My mom had been putting saving bonds in the bank since I was born, so by the time I graduated, I think we had acquired the phenomenal sum of $5,000. Not a lot by today's standards and - let me be frank - not a lot by the standards of 1985 Vista, California. But it was what we had. My mom said it would work out and that if I really wanted to go to school, I would find a way to pay for it.
And you know what - she was right. I worked really hard during the summer of 1985 to save up money, found a job as a busboy at college, and thankfully attended a really cheap, subsidized state school.
Now, as I look at my son and ruminate over how we will help him pay for his education, I wish I had that same confidence my mom had. I think we are a little better off than my parents were, but not by much. Not that we're going to be able to pay for Harvard, but over a decade of saving means that there is probably enough to pay for a good portion of his tuition. But that being said, based on my own experiences, I don't want to hand my son a full ride ticket to college. I know that there is value in hard work. We appreciate things so much more when we have the chance pay for them. I want him to work - not just so that I can save some money - but so that he can learn the value of work and the pride that it can instill.
I'm guessing that there are parents and students around the country having similar thoughts right now. Even better, there are park managers around the country scrambling right now to hire their next batch of summer seasonal workers. (I'm a little bit like the Simpsons - it usually takes me a while, but I eventually get back to the main story line). Each summer, parks bring on thousands of new rangers to meet the increased summertime demand for help. Whether it is a living history ranger working the towpath on the C & O Canal, a law enforcement ranger doing summer river patrol on the Yampa River in Dinosaur National Monument, a search and rescue ranger at a Denali base camp, or a seasonal maintenance worker on the south rim of the Grand Canyon, throughout the country, thousands of young people will begin working for the National Park Service this summer helping to protect the over 280 million of visitors that will enter our nations nearly 400 National Park sites this year. Here at Brown v. Board of Education NHS, we are delighted that we will be hiring a number of student interns to help us with our summer time youth programs. Partnering with University of Arkansas at Pine Bluffs, we are hiring two seasonal interpreters to work with our summertime outreach to the Boys and Girls Clubs of Topeka, Lawrence and Kansas City, Kansas. We are also recruiting two entry level park aides from area high schools to help out as well. If you know of any interested high school juniors or seniors, just let us know.
Although I didn't discover the National Park Service until after college, I have incredibly fond memories of being a summer seasonal park ranger. I had the chance to do interpretation, law enforcement, and even a stint as a bio tech. But, my favorite memories came from working fire lines Colorado, Utah's Book Cliffs, and best of all, way up north in the heart of Idaho. A good day's work on a fire line in a beautiful setting, working on a team with some wonderfully motivated people. What's not to like?
So, eight years from now, when my little boy heads off to college, I will count myself very lucky if he is able to follow in his old man's footsteps and spend a few summers living and working in our nation's crown jewels, serving others and helping protect our parks. The money is not spectacular, but it's good pay for a good honest day of work. And the views not too bad either.
For more information about applying for jobs with the National Park Service, please visit www.usajobs.gov.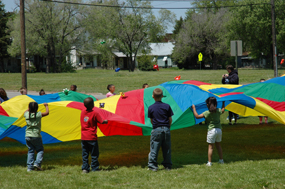 March 19, 2012
Last week, our chief of maintenance introduced me to the grasshopper.
When she initially mentioned that she wanted to take me out to see the grasshopper, I was a bit taken aback. I was thinking of the bug. I'm not scared of bugs - I just don't like them a lot. Even though it has been an incredibly warm winter and the trees are leafing out like mad, it's still a bit early for bugs to be out and about. No, this grasshopper is special. It's metallic green, fast, and purrs like a kitten. It's also fully adjustable and cuts grass better than a swarm of locusts. After nine months on the job, she trusted me enough to let me take the ride-on lawnmower for a test spin.
Growing up in sunny southern California, I have been pushing a lawnmower since I was eight and probably have cut enough grass in my 44 years to cover the equivalent of a small East Coast state. It was always lawn cutting season in Vista, California and cutting the grass was one of my primary weekly chores. I thought I was pretty good with a lawnmower. But now that I have ridden the grasshopper, I'm not sure if I can go back to a push mower. It turns on a dime, it goes 13 miles per hour, and it mulches as you move along. There is no way I could ever justify the purchase of one for our little patch of lawn here in Kansas. But I have got to be honest - for the first time in my life, I'm experiencing a heavy dose of lawn mower envy.
I bring this all up because this last week, for the first time in months, I smelled fresh cut grass again. Spring is here and it smells great. The flowers are exploding with blooms, trees are leafing out everywhere, and the dawn sounds like something out of the Amazon with a cacophony of song birds greeting the arrival of the sun. We have finally broken through the harsh bonds of winter - spring is here. (Admittedly, this has been one of the gentlest winters of record - virtually no snow, warm temperatures, and a hot March. I have no doubt; real grass hoppers will be forthcoming.)
Teachers and principals have been using the warm weather as an excuse to really come out in droves to the park these last three months. Schools are also taking advantage of the bus grants that we have been able to offer this year, filling the halls with young minds, eager to learn - and probably even more eager to get away from school for a day. Imagine their surprise when they find out that their school trip is to a school! So, with warm weather, flowers blooming, and spring trudging along at full speed, the park is eerily quiet today. Not a kid in the building. Spring break has given us a week to catch our collective breaths. Angela Estep, our new educational specialist ranger, has been burning the midnight oil to create new programs for the literally thousands of kids who have made it to the park since the first of the year. We're all going to use this small, little hiatus to stock up, prepare our lesson plans, and get ready for another onslaught of kids next week.
If you are a teacher or parent and are looking for a way to help get your classroom over to the school for a visit, please give us a call at 785-354-4273 and ask for Angela. We still have some money put aside to offset the cost of school buses and we would be thrilled to see you here. And for those of you on vacation this week, consider dropping on by in the family car. The park is quiet, the staff is well rested, and we would be thrilled to spend some time showing you around the place.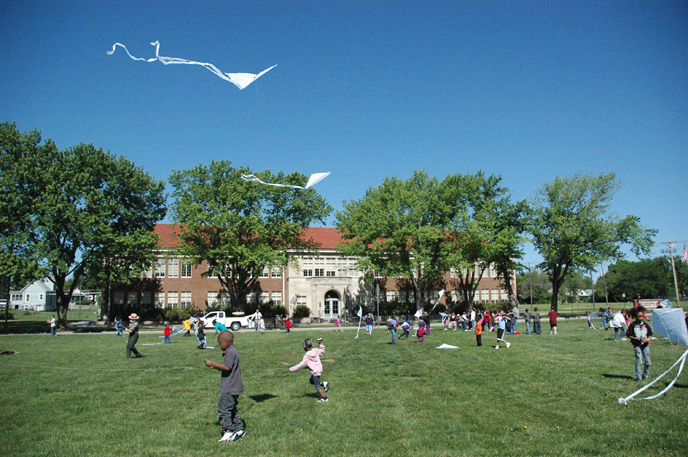 Aaron Firth/NPS
April 24, 2012
If you have children in Kansas, you probably let out a big sigh of relief as the annual testing and assessments wound down last week. For about a month in the spring each year, the park gets eerily quiet. Kids are sequestered indoors, working hard to cram for tests that will help determine school funding as well as student placement. Well, that all changed this week.
Yesterday was a glorious day with the sun shining and a light breeze blowing. Scores of children made their way down to the park for a day of kite flying and frolicking. The third graders were matched with kindergarteners and they learned the fundamentals of what it means to fly a kite. Surprisingly, for many of the kids, this was their first time ever flying a kite!
Brown v. Board of Education National Historic Site is an urban park situated in one of Topeka's more challenged neighborhoods. In a section of town that has seen a number of assaults and homicides in recent months, it's not too much of a surprise that parents are apprehensive about letting their kids spend time outside, doing things like learning how to fly a kite.
Yet, an abundance of literature is currently on the shelves confirming that our kids need time outside, exploring, playing, and doing the things that human beings have been doing for centuries. Having safe places to explore and play in is crucial. Brown v. Board of Education NHS is famous as a historic site, not so much for its natural wonders. We may only have an acre and a half of public land surrounding our park, but it thrills me to know that kids from throughout the neighborhood know that it is a safe place to hang out in and play. With Cushinberry Park on our western boundary and the trailhead for the Landon Trail in our parking lot, Brown v. Board of Education NHS is a great place to come and start your outdoor urban experience. Plan a picnic here, bring your footballs and Frisbees and play on the front yard, or take a bike trip down the Landon Trail and explore the creeks and waterways along the way. Even better - bring a kite! Remember - those green spaces and urban oases are out there - it just takes a little effort to find them.
May 10, 2012
I'm sad to say, but it takes me a long time to read a book. My night stand must have a dozen different books that I'm trying to trudge through right now. They are all good books - my problem is just that I seem to have the attention span of a gnat and I end up starting another book before I finish the first one. Before long, my alarm clock is hidden under a cave of books making it increasingly difficult for me to turn the alarm off in the morning.
There are great things on the bookshelf right now. There is Guns of August, the Barbara Tuckman classic on World War I. I have Nina Tottenberg's epic May it Please the Court. I'm rereading the Wind and the Willows because I was horrified to see that my children did not want to read it - it didn't live up to their expectations following the Disney cartoon. After reading about Mr. Toad for a few minutes, I quickly pick up a really fun book I found on the Franco Prussian War of 1870. And then, through all the clutter and dust, way down deep at the bottom of the pile, lays a hidden and incredibly disturbing treasure.
The New Jim Crow by Michelle Alexander is a book I wish every single one of us could read. I happened to see Alexander on the news the other night and was so impressed with her, I ran to the bedroom, grabbed the copy of her book that lay hidden at the bottom of the pile and began reading. The next thing I knew, it was one o'clock in the morning and I couldn't put the book down. For a person like me who has spent the last two decades of his life living and growing up inside of National Parks, I am surprisingly ignorant regarding the intense battle and injustices that are taking place around my country and out of my sight. National Parks are the places that we go to recharge ourselves. They provide us the peace and solace that we need from time to time when we are overwhelmed by life's challenges. I'm not trying to be a Pollyanna - I know that bad things can happen in parks and occasionally do. I have been on my fair share of rescues and recoveries to attest to that. But compared to the battles and suffering that are taking place in many communities throughout the country, parks do offer us a break. It's the reason Presidents Bush and Obama have made such a big effort to let our returning soldiers from Iraq and Afghanistan know that the parks are open and free to them upon their return.
The New Jim Crow paints a disturbing picture of what is currently happening to young men across the country. As a father of an African American son, when I read that in many US cities, a black man is 20 to 50 times more likely to be incarcerated for drug crimes than a white man, I am concerned about the world that my child is about to enter into and my ability to train him for it. Alexander documents example after example of communities where up to 80% of the African American men have been incarcerated. With felonies on their records, their ability to find a job and become a productive member of our society is an uphill and often impossible battle.
The segregation that occurred here in Topeka in the early part of the last century was blatant Jim Crow and something that a remarkable court decision changed forever. By allowing children of all races access to a good, quality education, our parents and grandparents were laying the groundwork for a much more just and equitable world. Today, I saw over a hundred children come into the park to learn about the history of desegregation and to see how far we have come. What will happen when they leave the park and go out into the neighborhood? What happens when they graduate? After reading The New Jim Crow, I know that Brown v. Board was only the beginning - we have a tremendous amount of work to do still.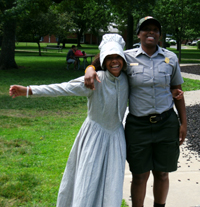 NPS\David Smith
June 29, 2012
Over the last month, the park staff has been working with the Boys and Girls Clubs in Topeka, Lawrence, and Kansas City. It has meant spending hours traveling to remote corners of eastern Kansas and western Missouri. In most National Parks, rangers spend most of their time working in the park. During the summer, they work with local children, teaching them how to hike, maybe going on a rafting trip, or taking a walk into the wilderness to look for bugs and snakes and other living things. Well, I don't know when the last time you visited the park, but you would be hard pressed to find a chunk of wilderness in east Topeka that allows for backcountry hiking, time on a raft, or some one on one time with a white tail deer and a gopher snake.
Well, our rangers have a slightly different philosophy. You might think of the park as being limited to the acre and a half that surrounds the former Monroe Elementary School - a visitor center, a parking lot, and some exhibits. But frankly, we look at this park as just the start of the adventure. It is important to look beyond your borders and see what the connections are and understand where the real boundaries exist.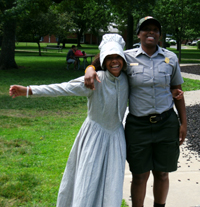 NPS\David Smith
June 29, 2012
Over the last month, the park staff has been working with the Boys and Girls Clubs in Topeka, Lawrence, and Kansas City. It has meant spending hours traveling to remote corners of eastern Kansas and western Missouri. In most National Parks, rangers spend most of their time working in the park. During the summer, they work with local children, teaching them how to hike, maybe going on a rafting trip, or taking a walk into the wilderness to look for bugs and snakes and other living things. Well, I don't know when the last time you visited the park, but you would be hard pressed to find a chunk of wilderness in east Topeka that allows for backcountry hiking, time on a raft, or some one on one time with a white tail deer and a gopher snake.
Well, our rangers have a slightly different philosophy. You might think of the park as being limited to the acre and a half that surrounds the former Monroe Elementary School - a visitor center, a parking lot, and some exhibits. But frankly, we look at this park as just the start of the adventure. It is important to look beyond your borders and see what the connections are and understand where the real boundaries exist.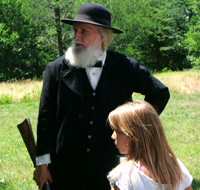 NPS\David Smith
Congress is currently debating legislation that would create the Harriet Tubman National Historic Site. Although the park will be limited to a few structures and landscapes in Maryland and New York, the real story of Harriet Tubman will be the Underground Railroad - a story that runs throughout the south, as far west as Kansas, and all the way north to Canada. When this becomes a park, rangers there will no doubt partner with historic sites and natural areas throughout the country to tell this amazing story of the flight to freedom. Similarly, Andersonville National Historic Site in Georgia tells the story of the horrors of one Confederate-run prisoner of war camp. Yet the true power of this site is being able to tell of the impact to POWs and their families throughout the Civil War, as well as to the pain and suffering endured throughout the World Wars all the way up to present conflicts.
Our park is no different. Brown v. Board of Education NHS is more than one school in a Midwestern city. It tells the story of the struggle for desegregation in schools around the nation. But, more importantly, it also tells the important story of civil rights that American's continue to fight for. The children that we work with in the park may never experience the pain of being denied equal access to education because of the color of their skin. But the distinctions based on economic disparity in school districts, gender income inequality in the workplace, marriage equity in society, as well as any number of other civil rights issues will continue to face them, their parents, their families and their friends for decades to come.
With this in mind, we are working hard with our partners at Freedoms Frontier National Heritage Area, the National Park Foundation, the Ritchie House, and the Boys and Girls Clubs of eastern Kansas/western Missouri to bring history alive and connect our young people with their parks and public lands. This summer, our children have visited Civil War battle sites at Black Jack and in Westport, Missouri where they learned about African American soldiers and the roles they played in fighting for their freedom. Here in Topeka, they heard stories about the abolitionist soldier and orator John Brown and were able to see stops on the Underground Railroad. At Lecompton, they saw history come alive with presentations by Frederick Douglass, Harriet Beecher Stowe, and many others, discussing why the franchise was so very important and what slavery was doing to the nation. Along the way, they took opportunities to explore the backcountry, see what it was like to live on a farm 150 years ago, and see how humans have helped change the landscape.
I am so thankful to all of our amazing partners this summer who have helped make meaningful contributions to the lives of our local children. Just like the web of life links all living creatures, the fight for civil rights is a human struggle that has existed as long as humans have inhabited this planet. It will continue to affect generations to come and it is a story that we are all too happy to share with visitors that make it out here to our little park, one and a half acres big, in an urban neighborhood in America's heartland.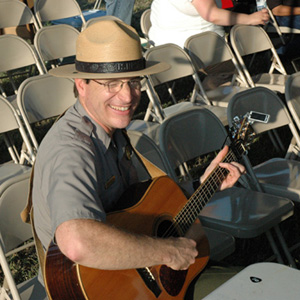 NPS
September 17, 2012
The change in weather that has brought our lawns back to life in the recent weeks is also indicative of changes happening at the park. We were both thrilled and disappointed to hear that park Chief of Interpretation Dave Schafer has accepted a temporary detail to work as superintendent at Nicodemus National Historic Site. As Nicodemus NHS prepares to begin work on some major restoration projects as well as deciding on the location of permanent visitor facilities, Dave will be hard at work on the great plains of northwest Kansas serving as the interim superintendent. In the meantime, park ranger and interpreter extraordinaire Justin Sochacki has taken a temporary assignment as the program lead for the NPS midlevel development program for the Midwest and Northeast. The loss of Dave and Justin from our park operations leaves a tremendous void. Good for Nicodemus NHS and our region, but a painful loss to Brown v. Board of Education NHS.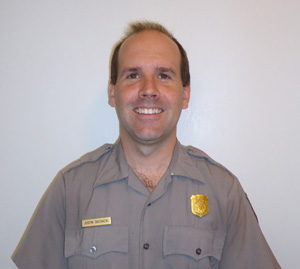 NPS
But as my mom used to tell me, when a door gets closed, it usually means that a window is opening up somewhere else. Justin and Dave's departures allow the park to begin recruiting some new seasonal park rangers to help fill the ranks. If you have a passion for civil rights and have wanted to work for a national park, I would invite you to check out the job announcement for the two seasonal positions being offered at Brown v. Board of Education NHS. These jobs are open to all U.S. citizens and we hope to have them in place by early November. Please direct anyone who might be interested to check out the USAJobs weblink at:
https://www.usajobs.gov/GetJob/ViewDetails/325150800
Applying for federal jobs is always a challenge, especially if you are new to federal employment. Please don't hesitate to contact either myself or our administrative staff at (785) 354-4273 if you have any questions or need help completing the application process. The job closes on September 21, 2012, so don't dally. I look forward to seeing your name on our list of applicants.