Washington, District of Columbia
Eleven African American junior high school students were taken on a field trip to the city's new modern John Philip Sousa school for whites only. Accompanied by local activist Gardner Bishop, who requested admittance for the students and was denied, the African American students were ordered to return to their grossly inadequate school. A suit was filed on their behalf in 1951. After review with the Brown case in 1954, the U.S. Supreme Court ruled "segregation in the District of Columbia public schools…is a denial of the due process of law guaranteed by the Fifth Amendment…" This class action case was named for Spottswood Bolling.
Information courtesy of the Brown Foundation for Educational Equity, Excellence and Research.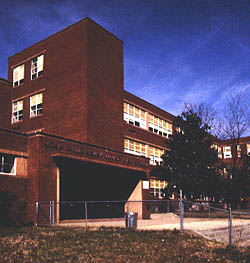 National Historic Landmarks collection
National Historic Landmark designation
On August 27, 2001, John Philip Sousa Junior High School achieved National Historic Landmark designation for its significance to the Brown v. Board of Education U.S. Supreme Court case.
For more information about John Philip Sousa Junior High School, please visit the following links:
http://www.cr.nps.gov/NR/travel/civilrights/dc4.htm
http://www.cr.nps.gov/nhl/themes/Scanned%20Nominations/Desegregation/Sousa.pdf