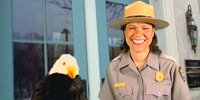 Fair is Fair! (Grades PreK-2)
Ranger Rachel explains to Allen the Eagle about how little boys and girls of different races could not attend school together and how that was not fair. Parents stood up as leaders to make things right. "Fair is fair, show you care, invite, be polite, can I count on you to do what's right? Fair is fair!"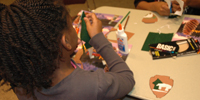 National Parks (Grades K-8)
Learn about National Parks through games, art, maps, reading, and writing activities.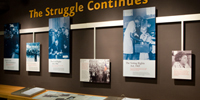 Self-Guided Gallery Tours (Grades K-College)
Explore the exhibits at your own pace after a brief introduction from a Park Ranger.
Don't Say Ain't (Grades 1-5)
Listen to the book by Irene Smalls and see how actions effect others' feelings. The chant in the book is carried on with outdoor jump rope, sidewalk chalk and hopscotch activities.
For a complete Topeka experience focusing on the enduring struggle for freedom in Kansas, we recommend the following programs. If your tour includes Brown v. Board of Education NHS and you receive a transportation grant, your transportation costs to these other sites will be included.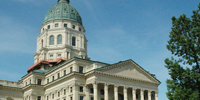 Kansas State Capitol Tour (Grades K-College)
Include a tour to the restored state capitol building including the John Steuart Curry murals in the rotunda.