The Battle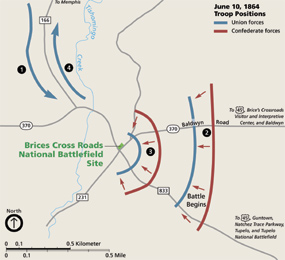 NPS
The bold numbers in this text reference the numbers on the map. Click here for a larger more readable map.
Sturgis's army moved out at dawn on June 10, 1864, headed southeast, the cavalry in the lead (1). About a half-mile east of the crossroads (2) the lead elements of the Federal cavalry met the Confederate Kentucky brigade about 9:30 a.m. and the battle began. By 11:00 a.m. Forrest, now reinforced, began to push the Federals back toward the crossroads. The Federal horsemen held out long enough for infantry reinforcement. Having formed an arcing battle line around the crossroads (3), the two forces battled for the next 4 hours. By 5 p.m., after enveloping both Federal flanks and launching a slashing frontal attack, Forrest had shattered Sturgis's line, forcing the Federals to retreat back toward Memphis (4). An overturned wagon at the Tishomingo Creek bridge slowed the Federal retreat and resulted in the loss of 16 artillery pieces and supply wagons containing guns and ammunition. Thanks to a series of defensive actions by a brigade of United States Colored Troops, most of Sturgis's army was able to escape almost certain capture.
Did You Know?

At the Battle of Brices Cross Roads, half of the 223 Union soldiers that were reported as killed belonged to Bouton's Brigade of United States Colored Troops. Most served in the 55th and 59th USCT.