Looking for a fun and educational way to learn about America's Civil War? Collect stories about the Civil War and civil rights with the National Park Service's Civil War to Civil Rights trading cards! The National Park Service is offering more than 500 trading cards to mark the 150th anniversary of the Civil War. Visit a park in person to earn a card (sorry, cards cannot be mailed). Ask a ranger or stop by the visitor center at a participating park. To earn your cards for Brices Cross Roads, you can visit the Natchez Trace Parkway Visitor Center near Tupelo, Mississippi, or the Final Stands Interpretive Center in Baldwyn, Mississippi.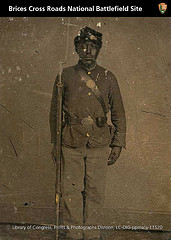 In their first opportunity to see actual battle, the 55th and 59th US Colored Troops covered the federal retreat when Union forces were overpowered at Brices Cross Roads. Nearly half of the Union soldiers who died there were from black regiments, but they saved many lives through their courageous defense.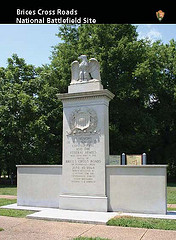 In June 1864, Confederate General Nathan Bedford Forrest threatened critical Union supply lines inTennessee. Federal troops were sent to stop him. The resulting battle was a brilliant victory for Forrest, but it came at a cost to the Confederacy. It is a great example of winning the battle, but losing the war.