U.S. Highway 89 Bryce Canyon to Grand Canyon

Road damage south of Page, Arizona will impact travel between Bryce Canyon and Grand Canyon National Parks. Click for a travel advisory and link to a map with suggested alternate routes: More »
Trail Rides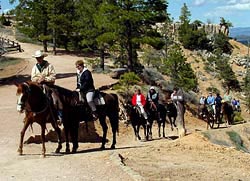 nps
Horse and Mule Rides
Looking for an exciting way to view Bryce Canyon? How about from the back of a horse? In spring, summer and fall, Canyon Trail Rides wranglers lead 2-hour and 4-hour horse and mule rides into Bryce Amphitheater along a dedicated horse trail and the Peek-a-boo Loop Trail.
For information, visit their web site at www.canyonrides.com. For reservations, write or call Canyon Trail Rides, P.O. Box 128, Tropic, UT 84776, 435/679-8665.
Did You Know?

USS Bryce Canyon (AD-36) was named after the park. Commissioned 15 September 1950 at Charleston SC,(22 years after the park was established, to the day), Decommissioned 30 June 1981. A plaque, with a Flag and Ensign last flown over the ship are on display in the Headquarters building. More...