U.S. Highway 89 Bryce Canyon to Grand Canyon

Road damage south of Page, Arizona will impact travel between Bryce Canyon and Grand Canyon National Parks. Click for a travel advisory and link to a map with suggested alternate routes: More »
Sunset Campground Construction

From April-July 2014, three new restroom facilities will be constructed in Sunset Campground. Visitors may experience construction noise and dust, as well as some campsite and restroom closures. 'Sunset Campground' webpage has additional information. More »
Bryce Point to Peekaboo Connector Trail Closure

Due to a large rockslide, the connecting trail from Bryce Point to Peekaboo Loop is closed. Trail will be reopened once repairs are made. The Peekaboo Loop is open, but must be accessed from Sunset or Sunrise Point.
Backcountry Campsite Closures

Due to bear activity at select campsites in Bryce Canyon's backcountry, two backcountry campsites have been closed until further notice: Sheep Creek and Iron Spring.
Trail Rides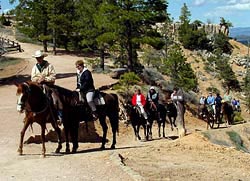 nps
Horse and Mule Rides
Looking for an exciting way to view Bryce Canyon? How about from the back of a horse? In spring, summer and fall, Canyon Trail Rides wranglers lead 2-hour and 4-hour horse and mule rides into Bryce Amphitheater along a dedicated horse trail and the Peek-a-boo Loop Trail.
For information, visit their web site at www.canyonrides.com. For reservations, write or call Canyon Trail Rides, P.O. Box 128, Tropic, UT 84776, 435/679-8665.
Did You Know?

Bryce Canyon National Park has three wildlife species listed under the Endangered Species Act: Utah Prairie Dog, California condor, and the Southwestern Willow Flycatcher. It is illegal to take, capture, kill, pursue, hunt, or harm these species or their habitat. More...