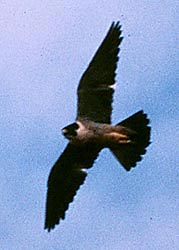 US Fish and Wildlife Service
Conservation:
At one time, the Peregrine was expected to be extinct in all of its territory by the year 2000. To the contrary, on August 20th, 1999, the Peregrine Falcon was officially Delisted from the Endangered Species List.
In the United States, the decline of peregrine populations has been linked to pesticide use, specifically DDT. It has also been linked to the use of PCB's. As DDT breaks down, it produces a product called DDE. DDE inhibits the internal production of carbonic anyhydrase, an enzyme that allows calcium to be delivered to the oviduct during egg production, in the female falcon. This creates weak eggshells. The weight of the falcon during incubation was enough to crush the eggs.
While DDT and DDE do not affect the peregrine directly, the levels of these chemicals magnify as you progress up the food web. For example: Grass is sprayed with DDT and DDE is produced (DDEx1). Insects ingest 24 grass seeds (DDEx24). A Praying Mantis eats 24 insects before being eaten by a sparrow (DDEx576). A peregrine "stoops" and eats 24 sparrows (DDEx13,824).
PCB's are released when plastic is burned. PCB contaminates do not break down and have been found at the bottom of the Antarctic Ocean. PCB's affect the sexual hormones in the peregrines, by stimulating an enzyme in the liver. This enzyme hinders a form of hydroxylation, and breaks down sex hormones. The decline in hormones resulted in weak pair bonding, lack of breeding desire, late start to breeding seasons, and the phenomenon of infanticide--here adults actually eat their own eggs.
In 1970, there were only 39 breeding pairs of peregrines known in the lower 48 states. Dr. Tom Cade of Cornell University in New York, began a captive breeding effort to restore East Coast populations. It was the first of its kind. There had never been a peregrine bred in captivity and released into the wild. He began his efforts by making a plea to American falconers to send the few remaining peregrines in captivity to the project to develop a breeding stock. Falconers responded and the "Peregrine Fund" was born.
Since 1977, more than 2,700 peregrines have been released by the Peregrine Fund. There are at least 800 known breeding pairs. Populations in the Rocky Mountains, California, and Pacific Northwest are directly attributed to the release of captive birds. Populations in Utah and Arizona have recovered naturally, with the support of the Peregrine Fund.
There were lots of successes and tragedies along the way, but the program has been successful. Technologies used were similar to those now used in the California Condor Project.
In the eastern U.S., released birds began breeding in the 1980s, and established themselves on city buildings. Approximately 150 known breeding pairs in 1990 produce almost 100 new peregrines each year.