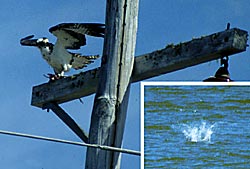 Fish and Wildlife Service
Behavior:
The Osprey is one of the most specialized hawks. It finds its prey by hovering high over open water, waiting for a fish to approach the surface. Ospreys plunge talons first completely submerging if necessary after the unsuspecting fish. Ospreys are often rated as the most powerful birds of prey based on a ratio comparing their body weight to the size of the prey they are capable of flying with. For the American Bald Eagle, the ratio is 1:1. For Osprey, it is 1:2 meaning they can carry twice their body weight or the same size fish that is the maximum load for the much larger bald eagle.
The Osprey is also equipped with special barbed pads on the soles of its feet to help grip the slippery fish. This adaptation comes in especially handy where territories overlap with Bald Eagles as the latter often tries to steal fish already caught by the Osprey.
Ospreys build their nests in a live or dead tree near or over water. The nest is constructed by both the male and female with sticks, sod, cow dung, seaweed, or whatever material is available. Once a pair has bonded, the female will be fed entirely by her mate while she sits on the eggs. This feeding may insure mate fidelity. After the eggs hatch, the male continues to be the primary provider for the family group, performing 70 percent of the hunting until the young have fledged.
Usually three eggs are laid and will hatch after 32-43 days. Ospreys are such good parents that siblicide is uncommon. Unlike eagles and other hawks, Osprey parents can usually supply their young with enough food that there is no need for the largest sibling to kill its brother and/or sisters to insure its own food supply.