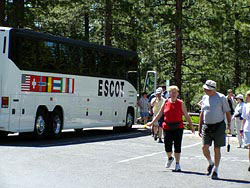 nps
Preservation of air quality and dark sky means lots of sacrifices, some with real economic impacts, others just require breaking old habits. For example, passing vehicle emission tests does cost time and money, but carpooling and using mass transit are merely behavioral changes.
What are the consequences of Bryce Canyon's air quality and viewshed preservation efforts? You'll probably need a flashlight while walking around our visitor center, our campgrounds, and even the Lodge area at night. If you're visiting us by tour bus don't expect your coach to be air-conditioned (or heated depending on season) upon your return from viewing an overlook. In an effort to preserve both natural quiet and air quality, our Park Rangers are instructed to fine tour bus operators $50 (at minimum) for leaving bus engines running while parked.
On the plus side, Bryce Canyon offers special about the night sky throughout our summer season, where our staff will be overjoyed to share with you the wonders of a dark sky.
The Future:

Even the National Park Service struggles to comply with these efforts. In rural settings, forest fire smoke is a chief source of air pollution. New air quality guidelines are confounding our prescribed fire efforts. In an effort to maintain healthy biologically diverse forests, we have to be careful not to obscure the world class scenery and viewsheds we are also charged with protecting.
Another form of air quality that we monitor is natural quiet. In key places throughout the park, we have equipment recording background noise to establish a baseline. The next question we will soon be facing is "What should a National Park sound like?"
It is easy to feel insignificant while peering across the Grand Staircase or craning your neck back underneath such vastness, yet ironically, it is within the individual's power to preserve such a view. Use mass transit systems, to reduce air pollution. Fight light pollution in your neighborhood by requesting special streetlight fixtures that direct all the light downward. Replace your porch light with motion sensor security lights that only come on when they are needed. If nothing else, draw your blinds at night. Many places have the potential for Bryce Canyon-quality stargazing. Doing your part to preserve the heavens is literally as simple as throwing a switch. On or off? The choice is ours.