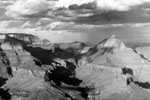 Dr. N. Gulf is Allister's colleague and special advisor on all things small.
Joining Dr. N. Gulf on his vacations is a risky adventure. He is obsessed with the search for primitive life like himself and his vacations take him to hazardous environments for most living things. It is in these locations he finds the conditions needed in the planet's past that resulted in the spark of life.
His first adventure was at the where he went to study fossilized ancient life in the oldest rocks of the deep canyon.