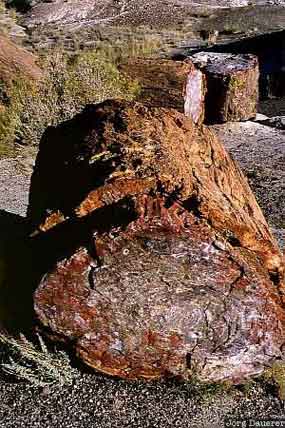 Jorge Dauerer
Most fossilized dinosaur bones and wood are permineralized. Permineralized fossils are created when voids and cavities in bone and wood, such as cells, are filled with minerals. The most common mineral in permineralization is silica (SiO2) or quartz. Oftentimes, the original cellular structure (pattern) is preserved. In the case of petrified wood, it is often possible to identify the tree genus. The various colors observed, especially in petrified woods, are due to trace amounts of other elements such as iron (Fe) and copper (Cu).
Eventually, all carbon-based tissues will rot, completely decomposing. But through a complicated chemical process called replacement, even things like cell walls and cell membranes can be preserved by trading their carbon molecules for rock forming minerals. When this happens, a large amount of biological detail is preserved, especially when the replacing minerals differ from minerals that caused the permineralization. For example, when silica-rich water is the permineralizing agent and iron pyrite replaces the tissues, paleontologists can see internal cellular structure. They can even distinguish between different cell organelles! This is only possible when the fluid space within individual cells is also permineralized. This high quality form of permineralization is called petrifaction and commonly occurs in petrified wood. So to be petrified, objects end up containing none of their original chemistry.
Although permineralized fossils are usually the most durable fossil type, they are not impervious. Extreme heat and/or pressure created by igneous or metamorphic processes can dissolve and melt them. Rainwater, being slightly acidic, will dissolve fossils permineralized with calcium carbonate. Furthermore, the same mechanical weathering that exposes them from their surrounding rock will also eventually destroy them.
Permineralized fossils are highly sought after by both rock hounds and paleontologists. While paleontologists value these kinds of fossils because of the detailed biology they record, collectors like them for their beauty and durability.
In this activity the sponge represents animal bone and the paraffin wax is the permineralizing agent.