U.S. Highway 89 Bryce Canyon to Grand Canyon

Road damage south of Page, Arizona will impact travel between Bryce Canyon and Grand Canyon National Parks. Click for a travel advisory and link to a map with suggested alternate routes: More »
Sunset Campground Construction

From April-July 2014, three new restroom facilities will be constructed in Sunset Campground. Visitors may experience construction noise and dust, as well as some campsite and restroom closures. 'Sunset Campground' webpage has additional information. More »
Bryce Point to Peekaboo Connector Trail Closure

Due to a large rockslide, the connecting trail from Bryce Point to Peekaboo Loop is closed. Trail will be reopened once repairs are made. The Peekaboo Loop is open, but must be accessed from Sunset or Sunrise Point.
Wall Street Section of Navajo Loop Closed

Due to dangerous conditions (falling rock and treacherous, icy switchbacks), the Wall Street section of the Navajo Loop Trail is CLOSED. It will reopen in Spring once freezing temperatures have subsided.
Backcountry Campsite Closures

Due to bear activity at select campsites in Bryce Canyon's backcountry, two backcountry campsites have been closed until further notice: Sheep Creek and Iron Spring.
Bryce Canyon GeoFest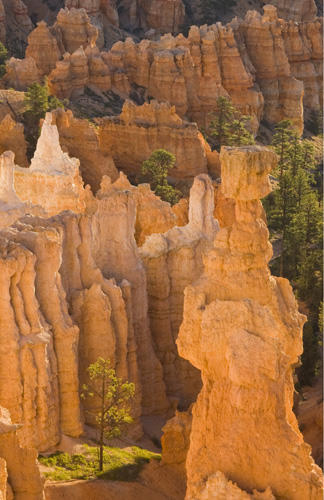 Kevin Doxstater
Bryce Canyon's 4th annual GeoFest is scheduled for Friday July 26 and Saturday July 27, 2013. Join park rangers for guided hikes, family-friendly geology programs, bus tours with a geologist, evening programs with special guest speakers, as well as exhibits and family oriented activities at the visitor center.
Tentative Schedule of Events (subject to change - all events both days except as noted):
Canyon Geology Hikes: 8:30 a.m. (meet at General Store)
Mossy Cave Hikes: 9 a.m. (sign-up required)
Geology Bus Tours: 9 a.m. & 2 p.m. (3-1/2 hours, reservations required)
Exhibits, Information & Family Fun: 10 a.m. - 3 p.m. (Visitor Center Plaza)
Geology for Kids: 10 a.m. (free ticket required)
Geology Talks: 11:30 a.m. & 2 p.m. at Sunset Point
Evening Programs: 8 p.m. at Bryce Canyon Lodge


Click here to download the complete schedule of events for the 2013 Geology Festival. (PDF 3.3 megabytes - requires free Adobe Reader)

Did You Know?

On a clear day, the visibility at Bryce Canyon National Park often exceeds 100 miles! This is due to our exceptional air quality, low humidity and high elevation. More...