U.S. Highway 89 Bryce Canyon to Grand Canyon

Road damage south of Page, Arizona will impact travel between Bryce Canyon and Grand Canyon National Parks. Click for a travel advisory and link to a map with suggested alternate routes: More »
Sunset Campground Construction

From April-July 2014, three new restroom facilities will be constructed in Sunset Campground. Visitors may experience construction noise and dust, as well as some campsite and restroom closures. 'Sunset Campground' webpage has additional information. More »
Bryce Point to Peekaboo Connector Trail Closure

Due to a large rockslide, the connecting trail from Bryce Point to Peekaboo Loop is closed. Trail will be reopened once repairs are made. The Peekaboo Loop is open, but must be accessed from Sunset or Sunrise Point.
Backcountry Campsite Closures

Due to bear activity at select campsites in Bryce Canyon's backcountry, two backcountry campsites have been closed until further notice: Sheep Creek and Iron Spring.
Park Fun
Hey kids!
Bryce Canyon National Park is an especially fun place for kids; we would love to see you here! If you'd like to find out more about what kids can do when visiting our Park, check out our For Kids site.
Right now, we have some fun online pages: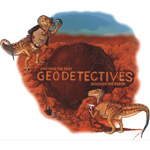 NPS
Geodetectives
-- Do you like geology? How about dinosaurs? If so, you could be a
Geodetective
by solving a mystery or two from earth history. How will you solve the mystery? Professor Allister Holmes McFragilis and his crew of dinosaurs will help you! Elementary, my dear Watson!
Gary Becker
What are lightning and thunder? Do you know how to be safe during thunderstorms in Bryce Canyon? Have you ever heard of the "30 - 30 rule?" Find out by visiting our
Don't Get Zapped!
website. Then take the
Quiz
and print a
Certificate
for yourself!


Did You Know?

Bryce Canyon National Park has a 7.4 limiting magnitude night sky! In most rural areas of the United States, 2500 stars can be seen on a clear night. At Bryce Canyon, 7500 stars can be seen twinkling in the void! More...