Things To Know Before You Come

TICKS / LYME DISEASE AWARENESS
Booker T. Washington National Monument, like much of the northeast and southeast, has experienced increased tick activity.
You can minimize your chances of exposure by following a few simple steps:
-stay toward the center of trails and away from brush and unmowed grass;
-tuck pant legs inside socks;
-wear light-colored clothing (makes spotting ticks easier);
-use insect repellant.
Be sure to check yourself, and your pets, for ticks. Contact your health care provider if you find any attached to you.
TOUR TIME INFO
Historic Area:
· The Visitor Center has a 15 minute introductory video, a display/museum area and a Eastern National Book Store.
· The Historic Area takes an average of 30 minutes to an hour to walk and explore the reconstructed buildings and landscape.
v A guided tour or a short orientation is available upon request. Larger groups are asked to call in advance to schedule a guided tour at: (540)721-2094. Guided tours last 45 minutes to an hour. Tours are free.
Jack-O-Lantern Branch Heritage Trail:
· This nature trail follows Gills Creek, which runs throught a wooded area, and is approximately 1 ½ miles.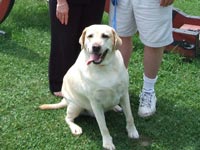 PETS at the Park

"Woof!"
"Woof, woof, bark!"
"Sniff, sniff, squat."
"Bark, sniff, woof!"
Translations:

1) "YES!" in response to the question, "Are dogs allowed in the park?"

v In order to protect natural and cultural resources, pets are

required to stay on trails, roads and developed areas.

v While they are allowed in the park, only certified help

animals are allowed in park buildings.



2) "Please keep me safe!" A reminder from your canine companion to keep it in control and on a leash at all times during your visit. Dogs must be on a leash of 6 feet or less in length and their owners must be holding the other end. It's not only for your pet's protection but those of wildlife and farm animals.
3) "I can't flush!" Please be considerate of other visitors and clean up after your pet. Disposable waste pickup bags are available at a few park locations, with trash cans at or very near the bag dispensers.


4) "Oooh! New people to meet!" Your pet might want to meet others, but please remember that some people may be nervous around dogs.


Did You Know?

Booker T. Washington was born a slave on the farm of James and Elizabeth Burroughs on April 5, 1856.