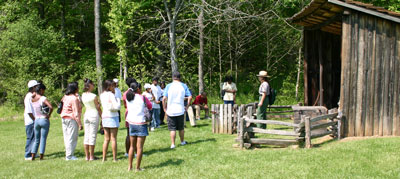 NPS Photo
RANGER GUIDED WALKING TOURS
Reservations are preferred in advance for a ranger guided walking tour but impromptu tours are offered when staff is available. Larger groups are recommended to make reservations to ensure the confirmation of a tour.
Walking tours generally last 30 minutes to one hour and we also have a 15 minute introductory video in our auditorium.
To make a reservation, call the park at (540) 721-2094. We suggest that you book your selected tour date as far in advance as possible. There is no fee for the program.