Bunker Hill Museum Closed

The Battle of Bunker Hill Museum is closed until further notice to repair the heating system.
Bunker Hill Monument Closed

The Bunker Hill Monument is unavailable to climb due to ice on the steps. Please visit the Bunker Hill Lodge adjacent to the monument.
Visitor Centers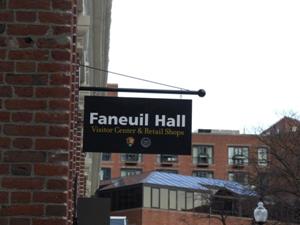 Boston National Historical Park visitor centers can be found at two convenient locations along the Freedom Trail. The downtown visitor center is located on the first floor of Faneuil Hall. The Charlestown Navy Yard Visitor Center is located in Building 5 next to the USS Constitution in Charlestown, just inside Gate 1 of the Navy Yard. Each provides free comprehensive orientation to the culture and history of the city.

The Faneuil Hall Visitor Center is staffed by park rangers and volunteers eager to help plan a vacationer's visit. Maps, brochures, free ranger guided tours, and information about sites along Boston's historic Freedom Trail® can be found here.

The Navy Yard Visitor Center, at Building 5, provides an orientation to the sites in Charlestown. Maps, brochures and restrooms are also available here. Visitors can enjoy a 10 minute introductory video of the Navy Yard and view the "Serving the Naval Fleet" exhibit.

Both Visitor Centers are open 9 am to 5 pm daily. Boston National Historical Park is closed on Christmas, New Year's Day and Thanksgiving.



Did You Know?

The request to reserve Faneuil Hall on December 16, 1873, identified the event as a celebration of the 100th anniversary of the Boston Tea Party. In truth, Suffragette Lucy Stone held the first women's suffragette meeting in the "Cradle of Liberty." She surprised many with her real agenda that day.