Visitor Centers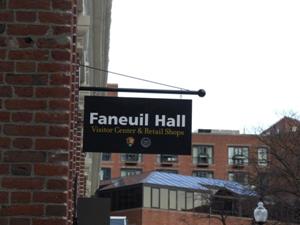 Boston National Historical Park visitor centers can be found at two convenient locations along the Freedom Trail. The downtown visitor center is located on the first floor of Faneuil Hall. The Charlestown Navy Yard Visitor Center is located in Building 5 next to the USS Constitution in Charlestown, just inside Gate 1 of the Navy Yard. Each provides free comprehensive orientation to the culture and history of the city.

The Faneuil Hall Visitor Center is staffed by park rangers and volunteers eager to help plan a vacationer's visit. Maps, brochures, free ranger guided tours, and information about sites along Boston's historic Freedom Trail® can be found here.

The Navy Yard Visitor Center, at Building 5, provides an orientation to the sites in Charlestown. Maps, brochures and restrooms are also available here. Visitors can enjoy a 10 minute introductory video of the Navy Yard and view the "Serving the Naval Fleet" exhibit.

The Faneuil Hall Visitor Center is open daily from 9 a.m. to 6 p.m.
Effective January 6, 2014 through March 31, 2014 the Charlestown Navy Yard Visitor Center will be open Tuesday through Sunday, 9 a.m. to 5 p.m.
Boston National Historical Park is closed on Christmas, New Year's Day and Thanksgiving.



Did You Know?

Next time they pass the plate at King's Chapel in Boston, give generously. The steeple hasn't yet been completed. They started working on it in 1749