Bunker Hill Museum Closed

The Battle of Bunker Hill Museum is closed until further notice to repair the heating system.
Bunker Hill Monument Closed

The Bunker Hill Monument is unavailable to climb due to ice on the steps. Please visit the Bunker Hill Lodge adjacent to the monument.
Accessibility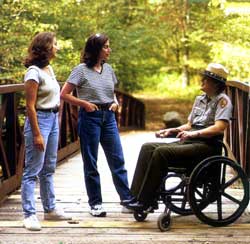 Both visitor centers (downtown and Charlestown Navy Yard) including rest rooms are accessible. Designated handicap parking spaces are located at the downtown and Charlestown Navy Yard visitor centers and at most Freedom Trail sites. Voice/TDD # (617) 242-5689.


Did You Know?

The Internal Revenue Service used to conduct ceremonies rewarding its best collectors and other employees at Faneuil Hall? Considering that Faneuil Hall was the site of some notable tax resistance meetings before The Revolution, we must conclude that the IRS does have a sense of humor after all.