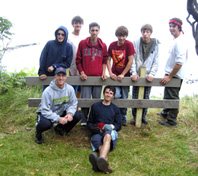 Protect Forts, Trails, and Beaches
Park mangers welcome individuals, families, corporate, community, and youth groups to help protect the park's natural and cultural resources. Individuals and families participate in events like COASTSWEEP in September and Park Serve Day in April. Watch bostonharborislands.org for opportunities.

Groups
The park offers regular opportunities for small groups to volunteer; larger groups can design their own event. Projects are geared to adults, though many tasks are appropriate for high-school age youth. Please take a moment to review the information below. Then, choose a target date, tell us about your group and send an email to the volunteer coordinator.
Small Groups (from 10 - 25 volunteers)
Stewardship programs for small groups are offered on many Wednesdays and Thursdays during June - September from 9:00 AM to 2:30 PM. Volunteers work along-side park rangers on a variety of tasks: trail clearing, invasive species control, citizen science monitoring, or general clean-up/maintenance projects. Charter fees may apply ($450-$650). Water transportation subsides may be available to help offset costs.


Large Groups (up to 100)
With advance planning, volunteer events can be customized for groups of up to 100 participants. organizations must be able to fund transportation costs, supplies, and services related to the event. Projects offered may include a beach clean-up, trails and grounds maintenance, control of invasive plants, painting, or other light construction projects. Projects are also designed to include a ranger-led tour or program.