Things To Know Before You Come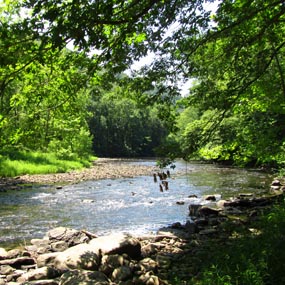 Please be aware of the following Bluestone National Scenic River regulations:

Hunting and fishing are allowed throughout the park on federally-owned lands in accordance with state laws and regulations. Hunting is not allowed within Pipestem Resort and Bluestone State Parks. No trapping is allowed in the park. Please note that, with the exception of legal hunting and fishing, all resources are protected including most plants and animals.
Camping is not permitted in Bluestone National Scenic River, but camping is available at Pipestem Resort State Park and Bluestone State Park nearby. Fires and off-road vehicles are also prohibited. Violators are subject to fines up to $5000 and 6 months in jail.
Although off-road driving is not permitted at Bluestone National Scenic River, you may check the National Park Service Off-Road Driving page for information about off-road driving in other parks, or download the Off-Road Driving brochure.
Tampering, damaging or defacing public property is prohibited and will be strictly enforced.
Littering is prohibited and will be strictly enforced. Please pack out all bottles, cans, fishing line and other trash.
Pets must be restrained at all times, leashes are not to exceed 6 feet.


Did You Know?

The Bluestone Turnpike, a riverbank road used by those who farmed and timbered the area until the 1940s, is now a trail used by visitors to Bluestone National Scenic River.