Phone System Down at Julian Price Campground

The phone system at JP Campground, MP 296.9, is currently out of order. Please refer to recreation.gov to make or change any reservations. For additional questions please refer to the camping opportunities section of our website. More »
ONE LANE TRAFFIC CONTROL, MP 241 - 242.4

REMINDER: Roadwork continues in a one-mile section of Parkway, commonly known as Ice Rock, from MP242.4 at Alligator Back Parking Area to MP241. The project involves twenty-four-hour, one-lane traffic control until November 1, 2014.
Highlights in Virginia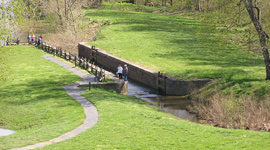 NPS photo
The northern portion of the Parkway highlights the rolling agricultural scenery that is so much a part of Virginia's Blue Ridge. The main story here is how humans have interacted with the land in these mountains. Visitors are introduced to a variety of cultural sites and landscapes associated with communities in the southern Appalachians including evidence of human occupation from prehistoric to contemporary times. Early stories of tourism in the mountains and examples of arts, crafts, music, and social institutions of the region make a visit to the Virginia section of the Parkway one filled with lasting memories. Much of the road travels through US National Forest lands as well and, north of Roanoke, the drive is dominated by a ridge-top experience with magnificent views of the flora and fauna of Appalachian hardwood forests and sweeping vistas of the Great Valley of Virginia.
Humpback Rocks (Milepost 5.8) – Visitor Center, museum of 19th century log buildings, picnic area, access to Appalachian Trail and hike to the summit of Humpback Mountain.
James River and Otter Creek (Milepost 60-63) – Visitor Center, restored canal locks on the James River, campground, extensive hiking trails along Otter Creek, restaurant and gift shop.
Peaks of Otter (Milepost 86) – Lodge and restaurant, Visitor Center, 1930s restored Johnson Farm, campground, picnic area, access to Appalachian Trail, extensive trail system to the summit of the three main peaks.
Roanoke (Milepost 106-120) - Access to the Parkway's largest neighboring city, hiking and horse trails, campground, and Virginia's Explore Park.
Rocky Knob and Mabry Mill (Milepost 167-176) – Many rural scenes and agricultural landscapes, working grist mill with adjacent blacksmith shop and cabin, three picnic areas, visitor center, campground, extensive hiking into Rockcastle Gorge.
Blue Ridge Music Center (Milepost 215) – Outdoor amphitheater, visitor center and museum. The Parkway's premier site for interpreting and featuring the musical heritage of the region.


Did You Know?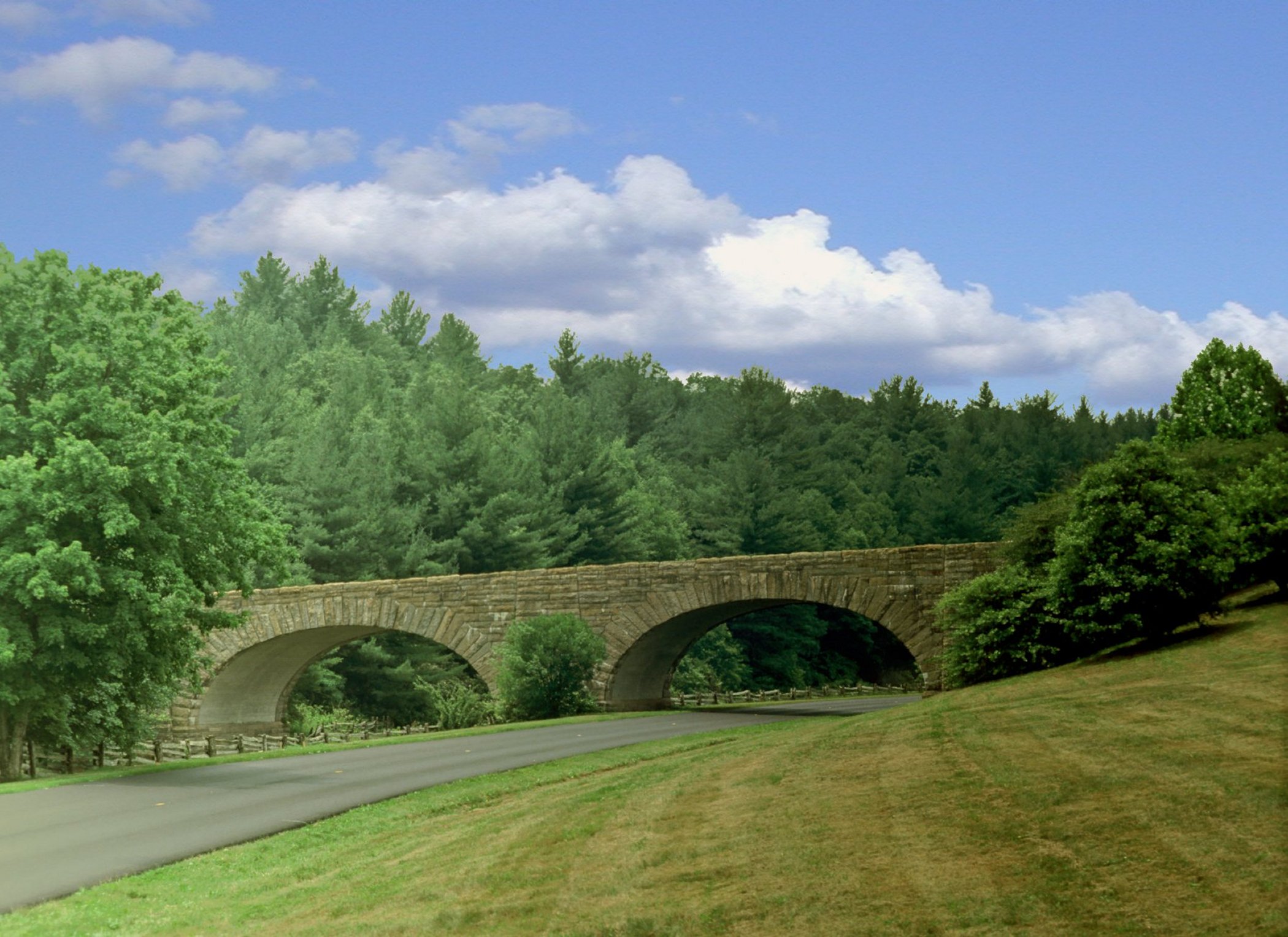 There are 176 bridges on the parkway, which makes up 10% of all National Park Service bridges.