Phone System Down at Julian Price Campground

The phone system at JP Campground, MP 296.9, is currently out of order. Please refer to recreation.gov to make or change any reservations. For additional questions please refer to the camping opportunities section of our website. More »
ONE LANE TRAFFIC CONTROL, MP 241 - 242.4

REMINDER: Roadwork continues in a one-mile section of Parkway, commonly known as Ice Rock, from MP242.4 at Alligator Back Parking Area to MP241. The project involves twenty-four-hour, one-lane traffic control until November 1, 2014.
Two Day
Day One – Morning
Heading south through Cumberland Knob (Milepost 218), be aware that you are traveling through the first section of the Parkway to be constructed, beginning in 1935. At Brinegar Cabin (Milepost 238.5) you can make a quick stop at the mountain home where Martin and Caroline Brinegar raised their family. This is the only Parkway structure on the National Register of Historic Places. Continuing south, you may want to stop at the Northwest Trading Post (Milepost 258.6) for some snacks or shopping. At E.B. Jeffress Park and the Cascades (Milepost 272), take time to picnic or hike to the Cascades waterfalls (1.2 miles total) or head across the Parkway (.5 mile trail) to the Cool Springs Baptist Church and Jesse Brown Cabin. If picnicking isn't an option, Blowing Rock is an easy access off of the Parkway and just twenty miles down the road.
Day One – Mid-Late Afternoon
After lunch, enjoy the Grandfather Mountain corridor here in North Carolina's High Country. Along the Parkway, visit the Moses Cone Memorial Park (Milepost 294) with the Cone family's summer resort, Flattop Manor, serving as the Parkway's official craft center. Views off of the front porch, a system of carriage trails, and shopping are available. Julian Price Park (Milepost 297) and the beautiful Price Lake Overlook (Milepost 297) are just a few miles south.
Day One – Late Afternoon - Early Evening
The Linn Cove Viaduct and Visitor Center (Milepost 304.4) is an opportunity to experience the Parkway's "last link" completed in 1987. Long or short trails throughout the Grandfather corridor take you up on the side of the mountain in some of the most unique habitat anywhere in the Blue Ridge. Overnight in North Carolina's High Country of Boone and Blowing Rock, or experience Price Park Campground, one of theParkway's most popular.
Day Two – Morning
Grandfather Mountain (privately operated and fees apply) is one of North Carolina's oldest and most popular tourist attractions with its "mile-high" swinging bridge and various environmental habitats for wildlife. Part of the Grandfather Mountain area is a North Carolina State Park as well. Linville Falls (Milepost 317) is one of the Parkway's busiest areas. Lying along the Linville River, the visitor center has educational items for sale and is the trail head for short or long hikes that will take you to a variety of overlooks, giving the visitor glimpses into one of the most rugged gorges and the first national wilderness area in the east.
Day Two – Mid-Late Afternoon
After hiking, picnicking,or fishing in the Linville River, head south fifteen miles to the Museum of North Carolina Minerals (Milepost 331), the place to learn about the geology of the Blue Ridge region through highly interactive, educational exhibits. A perfect place for using the park as a classroom for your children! A night's stay in Spruce Pine, Linville, or Little Switzerland completes a busy day!
Day Two – Late Afternoon-Early Evening
An afternoon and evening in Spruce Pine, Linville, or Little Switzerland completes a busy day!
Did You Know?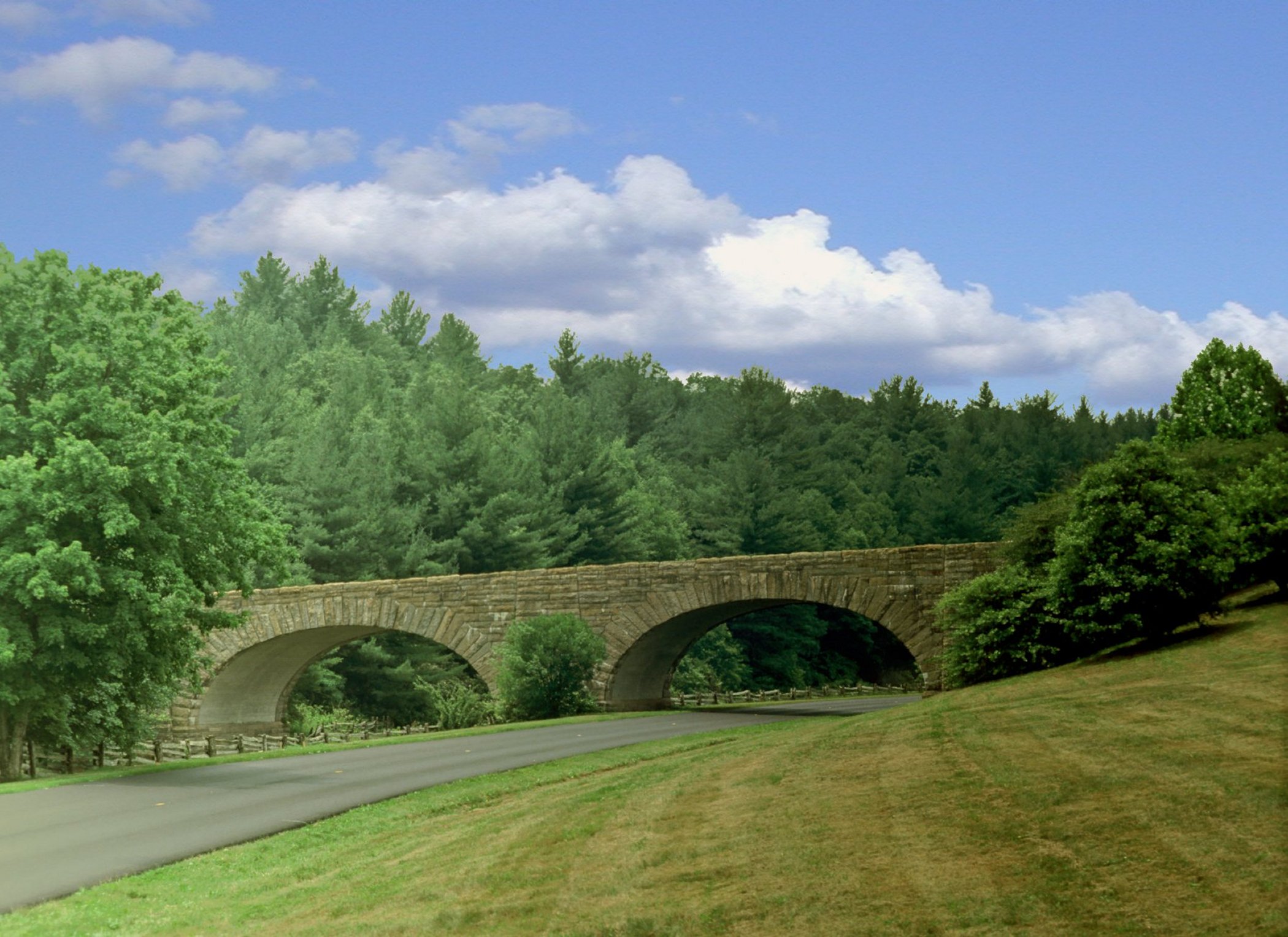 There are 176 bridges on the parkway, which makes up 10% of all National Park Service bridges.