Outdoor Activities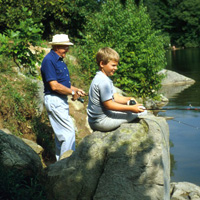 NPS photo
The Blue Ridge Parkway is designed as a "drive awhile and stop awhile" experience. Please don't be in a hurry!
Overlooks, picnic areas, campgrounds, visitor centers, hiking trails, and other areas of interest are available along the road. The best way to experience this place is to take advantage of these opportunities. Short trails offer the chance to get away from the road and see the Blue Ridge up close and personal, even if just for a few minutes. Longer trails are also available for the more adventurous. Bicycling, photography, birdwatching, and practically any other responsible outdoor activity is available for the Parkway visitor!
Hundreds of overlooks allow opportunities to catch a glimpse of sunrises or sunsets, have a picnic, or just enjoy the view across the mountains and valleys of the region. Park brochures and trail maps as well as Seasonal Opening Schedules will give you the details you need to plan your trip.


Did You Know?

The Blue Ridge Parkway travels through twenty nine counties and contributes $902 million each year in tourism revenue to North Carolina and Virginia.