Phone System Down at Julian Price Campground

The phone system at JP Campground, MP 296.9, is currently out of order. Please refer to recreation.gov to make or change any reservations. For additional questions please refer to the camping opportunities section of our website. More »
ONE LANE TRAFFIC CONTROL, MP 241 - 242.4

REMINDER: Roadwork continues in a one-mile section of Parkway, commonly known as Ice Rock, from MP242.4 at Alligator Back Parking Area to MP241. The project involves twenty-four-hour, one-lane traffic control until November 1, 2014.
One Day [Milepost 355-451]
Morning
Heading out of Spruce Pine or Little Switzerland in the morning, you will notice the number of tunnels that begin to dominate the Parkway through the rugged mountains of this part of North Carolina. Mark Crabtree Falls as a place to come back when you have time to hike the trail (2.5 miles) to this magnificent Parkway feature. At Craggy Gardens (Milepost 364.5) stop at the visitor center for great views and exhibits on the rhododendrons that blanket the mountains here, drawing visitors for generations. A short hike (.3 miles one way) leads to a shelter built by the Civilian Conservation Corps in the early days of Parkway construction.
Mid – Late Afternoon
In Asheville, visit the Southern Highland Craft Guild's Folk Art Center (Milepost 382) and the Blue Ridge Parkway Visitor Center with film and exhibits (Milepost 384). Lunch in Asheville or head south for a picnic at Mount Pisgah or lunch at Pisgah Inn (Milepost 407.8).
Take your time as you enjoy "the top" of the Parkway with elevations consistently over 5,000 feet and topping 6,000 feet for a short distance. This is, without a doubt, the place where the Parkway feels the most like "wilderness." At Graveyard Fields (Milepost 418.8), or Devil's Courthouse (Milepost 422.4), stretch your legs by strolling at least a short part of trails that lead to vistas.
Late Afternoon – Early Evening
At Richland Balsam overlook (Milepost 431.4) the Parkway tops out at 6,047 feet and many photos have been taken at the marker that signifies the elevation. At Waterrock Knob (Milepost 451.2) a panoramic view of many mountain ranges have given this place the reputation of having the best sunrise and sunsets anywhere on the Parkway. It is less than 20 miles to the end of the Parkway at Cherokee, NC for an evening of dining and experiencing the Native American culture of the Cherokee.
Did You Know?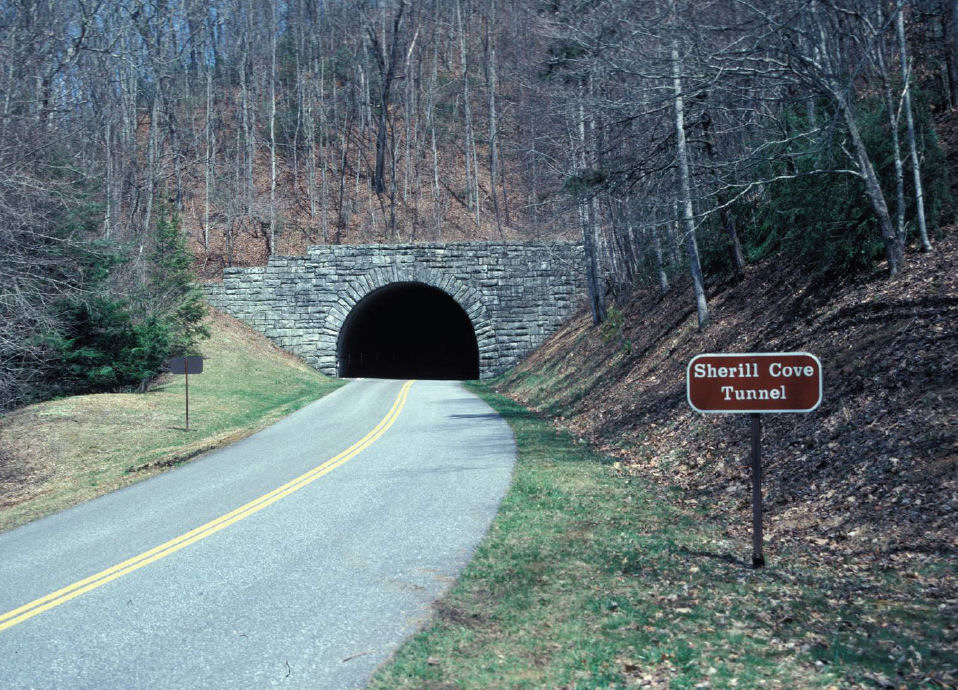 There are twenty six tunnels on the Blue Ridge Parkway, but only one in Virginia. This is primarily because the North Carolina mountains are more rugged than those in Virginia.