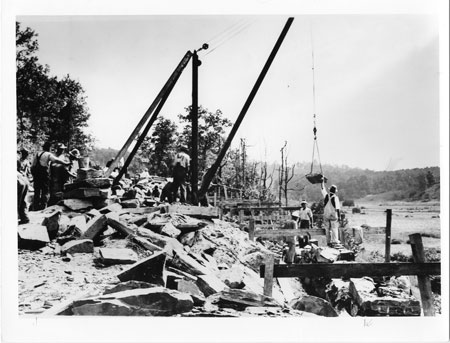 NPS photo
The project began when President Franklin Delano Roosevelt visited the newly constructed Skyline Drive in Virginia in 1933. Then U.S. Senator Harry Byrd of Virginia suggested to the president the road should be extended to connect with the recently established Great Smoky Mountains National Park. Roosevelt convened the governors of Virginia, North Carolina, and Tennessee and asked that a planning team be created. On November 24, 1933, Interior Secretary Harold Ickes approved this "park-to-park" highway as a public works project.
With a budget of $16 million, Ickes hired Stanley Abbott, a New York landscape architect, to oversee the project, and Abbott's vision of a chain of parks and recreational areas with preserved viewsheds began to take shape. A study was conducted to determine the best route for the Parkway with the recommendation being a leg of the highway from the Blowing Rock, NC, area extend over the Unaka Mountains into Tennessee, connecting with the Great Smoky Mountains National Park.
The decision was met with great controversy, particularly by the city of Asheville, NC, which found itself in dire economic straits at the height of the Great Depression. The Asheville Chamber of Commerce and other city leaders joined forces to lobby against the proposed route in favor of a road that passed through their city. An intense campaign began in Washington with the states of Tennessee and North Carolina vying for a different path for the Parkway.
The Asheville contingency employed the influential US Ambassador to Mexico, Josephus Daniels, to lobby on their behalf. Roosevelt had served under Daniels as Secretary of the Navy when Daniels was Defense Secretary under Woodrow Wilson, and the two men were friends. Daniels managed to sway the administration to favor the Asheville route and construction began September 11, 1935, near Cumberland Knob, North Carolina.
Most of the construction was done by private contractors, but a variety of New Deal public works programs were also employed, including the Works Progress Administration (WPA), the Emergency Relief Administration (ERA), and the Civilian Conservation Corps (CCC). When World War II began, approximately 170 miles were open to travel and another 160 miles were under construction. By the early 1950s, only half of the Blue Ridge Parkway was completed.
The National Park Service launched its ten-year development program called Mission 66, an accelerated effort to move construction ahead with a goal of the Parkway's completion by 1966. This initiative was very successful, finishing all of the Parkway's construction with the exception of 7.7 miles at Grandfather Mountain, North Carolina. Grandfather owner, Hugh Morton, objected to the proposed construction at Grandfather, citing the fragility of the mountain's ecology.
After years of negotiating, the revolutionary Linn Cove Viaduct – which had been constructed from the top down to protect the mountain's terrain – opened in 1987, completing the Blue Ridge Parkway's continuous 469-mile route.