Developed Areas Along the Parkway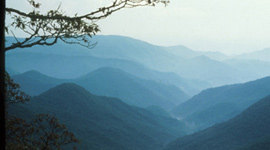 NPS photo
In Virginia, the Parkway highlights the rolling agricultural scenery that is so much a part of the Blue Ridge. The main story here is how humans have interacted with the land in these mountains. Visitors are introduced to a variety of cultural sites and landscapes associated with communities in the southern Appalachians including evidence of human occupation from prehistoric to contemporary times. Early stories of tourism in the mountains and examples of arts, crafts, music, and social institutions of the region make a visit to the Virginia section of the Parkway one filled with lasting memories. Much of the road travels through US National Forest lands as well and, north of Roanoke, the drive is dominated by a ridge-top experience with magnificent views of the flora and fauna of Appalachian hardwood forests and sweeping vistas of the Great Valley of Virginia.
In North Carolina, the Parkway is overall higher in elevation and more spectacular in the natural history that is preserved along the way. The Grandfather Mountain corridor serves as a refuge for relic populations of plants. Remote natural areas and dramatic views less affected by human presence dominate the visitors' experience south of Asheville. Biological diversity is best understood here as a product of varied geology and topography. Cultural history stories also come into play with isolated cabins and magnificent country estates in close proximity. Visitors begin to realize how the Parkway has influenced change in the region.
Humpback Rocks (Milepost 5.8) – Visitor Center, museum of 19th century log buildings, picnic area, access to Appalachian Trail and hike to the summit of Humpback Mountain.
James River and Otter Creek (Milepost 60-63) – Restored canal locks on the James River, extensive hiking trails along Otter Creek.
Peaks of Otter (Milepost 86) – Lodge and restaurant opening July 15th, Visitor Center, 1930s restored Johnson Farm, campground, picnic area, access to Appalachian Trail, extensive trail system to the summit of the three main peaks.
Roanoke (Milepost 106-120) - Access to the Parkway's largest neighboring city, hiking and horse trails.
Rocky Knob and Mabry Mill (Milepost 167-176) – Many rural scenes and agricultural landscapes, working grist mill with adjacent blacksmith shop and cabin, three picnic areas, campground, extensive hiking into Rockcastle Gorge.
Blue Ridge Music Center (Milepost 215) – Outdoor amphitheater, visitor center and museum. The Parkway's premier site for interpreting and featuring the musical heritage of the region. Mountain Mid-Day Music each day.
Doughton Park (Milepost 240) – Extensive hiking, camping, rolling pastures interspersed with high, rugged elevations.
Moses Cone and Julian Price Parks (Milepost 295-298) – Visitor and craft centers, picnic area, camping, the Grandfather Mountain corridor and associated rare habitats. Stories include America's country estate movement and donation of large parcels of land by wealthy individuals.
Linville Falls (Milepost 317) – Visitor Center, campground, picnic area, and access to the first and most popular wilderness area in eastern America.
Museum of N.C. Minerals (Milepost 331) – Visitor center and educational museum highlighting the geology of the region and the rich mining heritage of the area.
Crabtree Falls (Milepost 349) - Access to spectacular Crabtree Falls, providing a cool and delightful retreat within the shadow of the massive Black Mountain Range.
Mount Mitchell State Park and Craggy Gardens (Milepost 355-364) – The broad, central dome of the massive Black Mountains is the highest point in eastern America and Craggy Gardens represents high elevation heath balds that have attracted visitors since the 19th century. Visitor center and picnic area.
Asheville (Milepost 382-393) – Home to park headquarters and a major tourist destination. The Parkway meanders through the George Vanderbilt Estate and the Folk Art Center serves park visitors year-round. The Parkway's newest facility, Blue Ridge Parkway Visitor Center, has exhibits, film, and introduces visitors to the Blue Ridge region.
Mount Pisgah (Milepost 408) – Campground, picnic area, lodging, and restaurant. This high elevation area has attracted entrepreneurs, loggers, and visitors for two centuries. The birthplace of forestry in America is nearby.
Waterrock Knob (Milepost 451) – Visitor Center near the Cherokee Reservation and near the Parkway's highest elevation, featuring views over the heart of the Southern Highlands.