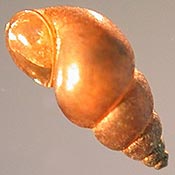 USGS Photo
NEW ZEALAND MUDSNAIL
The New Zealand mudsnail occurs in Colorado but is currently not at Black Canyon. If the snail were to become introduced to the Gunnison River, the fishery could be devastated. New Zealand mudsnails can harm aquatic insect communities, impacting the food chain, and can change the physical characteristics of the river by quickly reproducing in high density masses.
There is no environmentally sound or inexpensive way to eliminate New Zealand mudsnails once they are introduced.
Please help prevent further spread of these invaders: