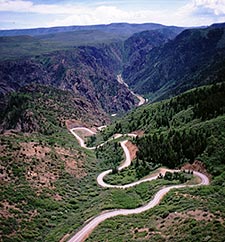 NPS photo by Lisa Lynch
East Portal Road
Those wishing to drive to the Gunnison River may do so by taking the East Portal Road. This provides access into Curecanti National Recreation Area where camping, picnicking and fishing are available. East Portal Road is closed in winter.
The road is extremely steep (16% grades) with hairpin curves. Vehicles with an overall length (including trailer) greater than 22 feet are prohibited on the East Portal Road. Trailers may be left unhitched and left at a parking area at the campground entrance.
Another access, located at Cimarron (18 miles east via Highway 50), provides an alternative drive to the Gunnison River (and Curecanti National Recreation Area).