Road Conditions

The South Rim Road is open to the Visitor Center, but the remainder of the road is closed to allow for grooming the ski trail. Grooming is expected to start soon but the snowpack is thin. The North Rim and East Portal Roads are closed for the season.
Climbing Safety In The Black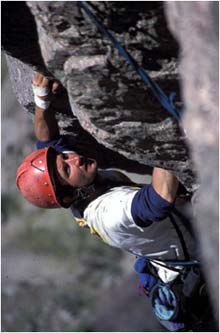 Photo copyright www.unitao.com
Climbing routes in the park are very deceiving. Often times you will find extremely clean cracks and excellent lines. However, in an instant the choss appears or you get off route and quickly go from a fun climb to a very dangerous situation. Loose rock is extreme in the Black. Be sure of your holds before you commit. Climbing under other parties brings with it the danger of being in the firing line of falling rock and gear. Always wear a helmet!
Do not be afraid to back off if you get in over your head. If you have to bail, the climb will be there next week or next year. Know your own abilities and your partners.
Rescue in the Black is very involved. Lowering off to an awaiting ambulance is not an option. Rescues here take time and are extremely technical in nature. Be prepared for self-rescue! The National Park Service does not guarantee rescue, so don't rely on someone else to help you out of a situation.
There are several things you can do to minimize risk while climbing, including carrying enough gear to stay out overnight if needed, and climbing within your ability level, especially if you are new to climbing in the Black Canyon.


Did You Know?

Black Canyon is home to the fastest bird in the world, the Peregrine falcon. Scientists estimate that Peregrines can reach speeds of over 200 mph in an aerial dive.