Climbing Route Closures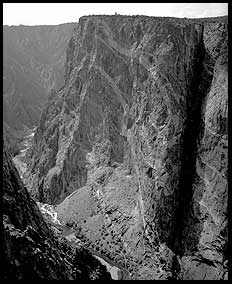 NPS photo by Lisa Lynch
CLOSURES FOR PROTECTION OF NESTING RAPTORS
Serpent Point and the adjacent walls within one-half mile are closed to public use from March 15 through July 15 (see above note). This includes the landscape portions above the walls extending 50 feet from the rim edge. This pertains to the following areas:
North Rim Areas - The Alpine Aretes, Porcelain Arete, and Painted Wall. These climbing routes are closed: Alpine Route, Porcelain Arete, On the Border, Broken Porcelain, Northern Arete, Beyer Route, The Dragon, The Serpent, Forrest-Walker, Stratosfear, Journey Through Mirkwood, Southern Arete
South Rim Areas - Dragon Point and Dragon Point Buttress. These climbing routes are closed: Pilgrimage, Crumb Blunder, Magic Dragon, Black Adder, Black Snake, Black Heathen, Black Dragon Rider, Silent Rage


Did You Know?
The Black Canyon contains some of the oldest exposed rock on Earth. Precambrian, or "basement" rock, is nearly 2 billion years old.