Road Conditions

The South Rim Road is open to the Visitor Center, but the remainder of the road is closed to allow for grooming the ski trail. Grooming is expected to start soon but the snowpack is thin. The North Rim and East Portal Roads are closed for the season.
Climbing Route Closures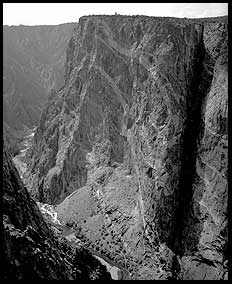 NPS photo by Lisa Lynch
CLOSURES FOR PROTECTION OF NESTING RAPTORS
Serpent Point and the adjacent walls within one-half mile are closed to public use from March 15 through July 15 (see above note). This includes the landscape portions above the walls extending 50 feet from the rim edge. This pertains to the following areas:
North Rim Areas - The Alpine Aretes, Porcelain Arete, and Painted Wall. These climbing routes are closed: Alpine Route, Porcelain Arete, On the Border, Broken Porcelain, Northern Arete, Beyer Route, The Dragon, The Serpent, Forrest-Walker, Stratosfear, Journey Through Mirkwood, Southern Arete
South Rim Areas - Dragon Point and Dragon Point Buttress. These climbing routes are closed: Pilgrimage, Crumb Blunder, Magic Dragon, Black Adder, Black Snake, Black Heathen, Black Dragon Rider, Silent Rage


Did You Know?

The temperature at the bottom of Black Canyon is approximately 8 degrees warmer than at the rim.