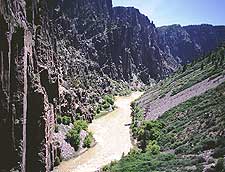 NPS Photo by Lisa Lynch
Whether you view the canyon walls from an overlook, from one of the inner canyon routes, or even from the bottom looking up, you will probably notice a difference in its two walls. The south-facing wall of the canyon is extremely steep and is sparsely vegetated while the north-facing wall is not as steep and often thick with vegetation, making the canyon look somewhat like a lop-sided "V". Basically, the rocks on one side of the canyon are being broken up or eroded more quickly than the rocks of the other side. This differential erosion occurs with the help of water, plants and the sun.
The striking difference between the canyon walls is mainly due to the amount of sunlight hitting these walls, which in turn determines the amount of freeze-thaw erosion occurring on each wall. The continuous cycle of freezing and thawing water, expanding and contracting within the canyon walls, weakens the rocks, and causes them to break off or erode. Since the south-facing wall receives more direct sunlight throughout the day, any moisture that falls there quickly evaporates. Without any moisture, freeze-thaw erosion is less likely to take place. In contrast, the north-facing wall is in shadow much of the day. Water evaporates much slower in the cool shade. The water that remains on the north-facing wall freezes and thaws throughout the winter, which increases the erosion that takes place.
Water, in all of its stages, helps to break rocks on the wall which in turn helps make more soil. With more soil, chances for a plant to take root increase. Roots help to break up rock and make soil as well. So, both the increased freeze-thaw erosion and increased vegetation on the north facing wall of the canyon have caused the rocks to erode at a quicker rate than the rocks on the south facing wall. This contributes to the lop-sided "V' appearance of the Black Canyon.