Woodlands Trail Closure

The Woodlands Trail in the Big Sandy Creek Unit will be closed August 19-29 and September 2-12, 2014, while park staff and an AmeriCorps crew apply herbicide to trifoliate orange, an invasive non-native shrub that has become problematic in that area.
Things To Do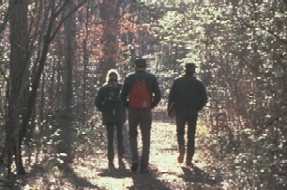 NPS Photo
Hiking
Approximately 40 miles of hiking trails wind through Big Thicket National Preserve, allowing hikers to observe many different ecosystems. Trails range from a 0.3-mile boardwalk loop to 15 miles. Click here for a list of hiking trails in the Preserve.
Camping
There are no developed campgrounds or campsites in the Preserve, but primitive camping is allowed in many areas. The visitor center issues free camping permits. Click here to learn more about camping in the Preserve.
Boating, canoeing, and kayaking
Boating and fishing are popular on the Neches River and Village Creek. Village Creek is an official Texas State Paddling Trail and attracts canoists and kayakers year-round. Paddlers can access the creek at a number of locations for trips ranging from a few hours to overnight. Paddlers can explore bayous along the Neches River on day trips, or spend several days traveling longer stretches of the river. Click here for a brochure on canoeing and kayaking in the Big Thicket.
Bird-watching
Big Thicket National Preserve lies in the path of 2 major migratory bird flyways. Bird migration peaks between March and early May. Approximately 185 bird species either live in the Preserve or migrate through it. The more sought-after birds are the red-cockaded woodpecker, brown-headed nuthatch, and Bachman's sparrow. The Sundew Trail tends to be a good place to see nutchatches, woodpeckers, and other bird species. The visitor center sells a checklist of birds found in Big Thicket National Preserve.
Hunting
Hunting is allowed in 5 units of the Preserve during the fall hunting season. Hunters must get a free hunting permit from the Preserve visitor center and must also have a valid State of Texas hunting license. Hunting permits are issued on a first-come, first-served basis.
2013-2014 Hunting Guide and Regulations

Did You Know?

Lance Rosier, a self-taught naturalist from Saratoga, was known as "Mr. Big Thicket." He dedicated his life to the preservation of the Big Thicket.