Woodlands Trail Closure

The Woodlands Trail in the Big Sandy Creek Unit will be closed August 19-29 and September 2-12, 2014, while park staff and an AmeriCorps crew apply herbicide to trifoliate orange, an invasive non-native shrub that has become problematic in that area.
For Kids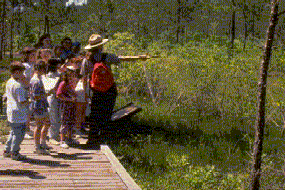 NPS Photo
For Kids

The Preserve offers a wide range of curriculum-based programs for school age children pre-K through 12th grade. These programs are offered at no charge and only by reservation to our regional schools.
Contact us for reservation at 409-951-6700.
Junior Ranger Program
An easy and exciting way for our young visitors to learn the many unique wonders of Big Thicket National Preserve. Just ask the ranger at the Visitor Center for your free Junior Ranger Guidebook. Kids can earn a ranger badge and certificate by completing activities in the book.


Did You Know?

Many kinds of snakes are found in the Big Thicket. Most are harmless, although the venomous cottonmouth, coral, copperhead, and various rattlesnakes do make this their home.