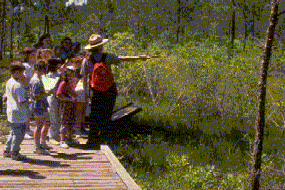 NPS Photo
Curriculum-based educational programs
The Preserve offers a range of curriculum-based education programs for students from pre-K through 12th grade. These programs are offered both in the Preserve and at local schools.
For more information or to make a reservation, contact us at (409) 951-6700.
Professional Development
Big Thicket National Preserve participates in the Teacher Ranger Teacher program, a professional development opportunity for K-12 educators. This is an 8-week summer program, requiring approximately 240 hours of work, in which teachers work with national park sites to learn about NPS resources, assist the park site with program development and educational materials, and earn three hours of graduate credit in Experiential Learning through an online course.
We anticipate recruiting for the summer 2016 TRT position in early spring 2016, funding permitting. For more information on this position or on applying, please contact park ranger Mary Kay Manning at 409-951-6720 or Mary_Kay_Manning@nps.gov.
Learn more about the nationwide Teacher Ranger Teacher program