Education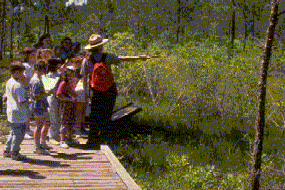 NPS Photo
Curriculum-based educational programs
The Preserve offers a range of curriculum-based education programs for students from pre-K through 12th grade. These programs are offered both in the Preserve and at local schools.
For more information, contact us at (409) 951-6700.
Project WILD
Project WILD is an interdisciplinary conservation and environmental education program that emphasizes wildlife and the environment. Big Thicket National Preserve staff are certified as Project WILD instructors and can both lead programs and teach others to lead them. The suite of Project WILD programs includes Project WILD, Project WILD Aquatic, Project WILD Science and Civics, and Growing up Wild. For more information about these programs, please call the Preserve at (409) 951-6700.