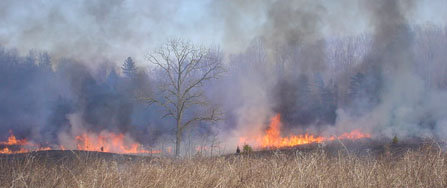 NPS
The Big South Fork NRRA has a long history of wildland fire. Under the right conditions, a controlled burn is utilized to "clean up" the forest floor and promote re-growth. It may also be used to protect the public, adjacent communities, infrastructures, as well as cultural and natural resources. Controlled burning usually occurs in the early Spring and late Fall in our Park.

One way that fire is managed is through monitoring weather conditions. A Remote Area Weather Station (RAWS) is located in the Headquarters area in which data is collected and used to determine the risk for fire during certain weather conditions such as droughts and/or high winds.
Big South Fork NRRA has a fire management plan in which gives more details about fire and it use in the management of the Park.