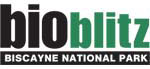 The National Park Service and the National Geographic Society held the Biscayne BioBlitz on April 30 and May 1, 2010. Teams of scientists, naturalists, community leaders, students, and the public joined forces to discover and inventory every living plant and creature in and out of the water at Biscayne National Park.
During this event, Biscayne National Park blogged here, posted images of the BioBlitz to
photo galleries
, and sent out updates via
Twitter
. They also kept track of the
plant
and
animal
species identified by BioBlitz participants. So, if you didn't attend the BioBlitz in person, check out what happened virtually through these options!
---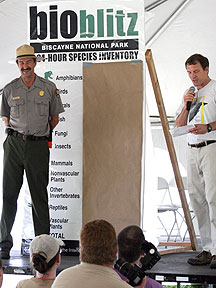 NPS/Todd M. Edgar
Saturday, 5:00 p.m. - BioBlitz Wrap-Up
After 24 hours of exploration and documentation, the Biscayne BioBlitz has provided a snapshot of the many species that call Biscayne National Park home, both on land and in the water. Led by more than 200 scientists from around the country, thousands of amateur explorers, families, and schoolchildren from south Florida conducted an inventory of the plants, insects, fish and other creatures that inhabit one of the nation's largest marine national parks. An awful lot happened between noon on Friday, April 30, to noon on Saturday, May 1, and that makes the event hard to summarize. However, here are a few of the many highlights:
The initial species count as of 2:30 p.m. Saturday was more than 800, with this number rising rapidly throughout the afternoon. Over the next few months, organizers expect this number to increase significantly as state-of-the-art testing of the collected samples continues.
On land observations of a number of species rare to the park including the Silver Hairstreak Butterfly, Mangrove Cuckoo, Bay-Breasted Warbler, and nesting Roseate Spoonbills.
Underwater park divers were excited to observe black, red, and gag groupers on a night dive on the park's reefs. In addition, park scientists were thrilled to NOT have seen any invasive exotic lionfish during the BioBlitz inventory.
BioBlitz participants identified 11 species of lichen and 22 species of ants that had not previously been documented in the park.
Internationally known scientist William (Randy) Miller identified a new Phylum of Tardigrades—commonly known as water bears—during the inventory.
Seven candidate champion trees seen at the end of Totten Key that survived hurricane Andrew—Paradise Tree, Bahama Strong Bark, Bllolly, Milk Bark, Joe Wood, Ink Wood, and Pigeon Plum.
More than 2,500 people of all ages participated in the program during the 24 hours, including more than 1,300 registered school children from Miami-Dade County and more than 200 scientists.
The Celebrate Biodiversity Festival that followed the BioBlitz included several bands, talks, nature walks, live animal demonstrations and other activities. The festival focused on sustainability and encouraging the public to do their part to protect the environment, many visitors graduated from "Biodiversity University" by participating in an education program throughout the festival.
Participants, scientists, volunteers, and park staff all teamed up to make this event happen. Thanks to everyone for making these highlights possible!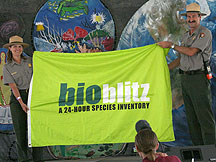 Saturday, 3:55 p.m. - The Next BioBlitz is...
This year's BioBlitz was greatly successful and the last of the participants are now enjoying the last of the presentations. But, even though this event isn't quite over, plans are already being made for next year's BioBlitz. At the closing ceremony today, the next national park to continue the BioBlitz partnership with National Geographic was announced. Biscayne National Park superintendent, Mark Lewis, presented the the BioBlitz flag to the superintendent of the lucky park to host next year's BioBlitz. And which park is it? Click
here
to find out!
Saturday, 3:33 p.m. - Another Species Count Update!
The preliminary species count numbers have been updated since this morning. However, the data managers will still be working away for quite a while until the final numbers are available. Still, the results of this BioBlitz are amazing! Check out what has already been confirmed to be found in Biscayne National Park in 24 short hours. For detailed lists of the specific species found during the BioBlitz, check out the preliminary
plant
and
animal
species list.
| | |
| --- | --- |
| Category | Species Count |
| Non-Vascular Plant | 68 |
| Vascular Plant | 209 |
| Fungi | 7 |
| Mammal | 6 |
| Bird | 65 |
| Fish | 192 |
| Reptile | 7 |
| Amphibian | 3 |
| Insect | 71 |
| Coral | 80 |
| Other Non-Vertebrates | 102 |
| Total | 810 |
Saturday, 9:17 a.m. - Species Count Update
These preliminary species count numbers are from last night. However, the data managers have been working away and will have updated stats which which we will post as soon as possible. But, here is what we know so far:
| | |
| --- | --- |
| Category | Species Count |
| Non-Vascular Plant | 43 |
| Vascular Plant | 206 |
| Fungi | 7 |
| Mammal | 4 |
| Bird | 61 |
| Fish | 114 |
| Reptile | 4 |
| Amphibian | 0 |
| Insect | 37 |
| Coral | 44 |
| Other Non-Vertebrates | 34 |
| Total | 554 |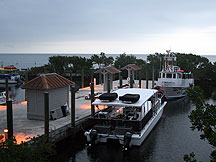 NPS/Todd M. Edgar
Saturday, 7:32 a.m. - Day Two Begins!
Park Staff, scientists, and volunteers have been on the move for several hours preparing for the final day of BioBlitz activities. The inventory effort will continue until noon today but other activities and presentations will go on throughout the evening. Be sure to check out the
BioBlitz program schedule
and plan to visit Biscayne National Park today to be a part of it all.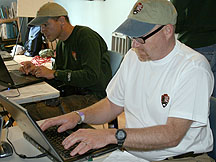 NPS/Todd M. Edgar
Friday, 5:23 p.m. - Data Deluge
The exhibits and presentations may be winding up for the evening but there is still lots going on at the BioBlitz. Many researchers will continue to inventory plants and animals—particularly animal species which are more active at night. However, the group of people who may be the busiest this evening are the BioBlitz data managers.
Data managers play the extremely important role of keeping track of all BioBlitz data including species lists and images. They ensure that this information is stored properly and will be available in the future to help the National Park Service make informed decisions concerning the management of national parks. So, while we sleep and prepare for the second day of the BioBlitz, the data managers will be hard at work compiling all the information collected throughout the day. It has already been confirmed that six new species of microalgae were found today that were not previously known to have existed in Biscayne National Park. Perhaps tomorrow morning the data managers will have teased out other discoveries buried in the data today.
Tomorrow, we'll start filling out the species lists on the website for
plants
and
animals
identified during the BioBlitz. However, if you want some data and you want it now, the first BioBlitz data points are starting to show up on
National Geographic's Biscayne National Park FieldScope
. Check it out.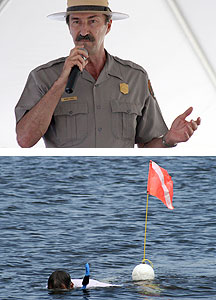 NPS/Todd M. Edgar
Friday, 2:01 p.m. - By Land and by Sea
Earlier today, several dignitaries came to wish BioBlitz participants well and thank them for participating in today's event. Speakers included the superintendent of Biscayne National Park, Mark Lewis, and the Associate Director of Natural Resources for the National Park Service, Bert Frost.
Then, the official BioBlitz inventory started off at noon and participants took to land and sea in search of the plants and animals of Biscayne National Park. Soon, the results of what they find will start rolling in and data managers will be able to give us updates as to the plants and animals that are being found. We'll keep you updated with those results through
plant
and
animal
species lists right here on this website.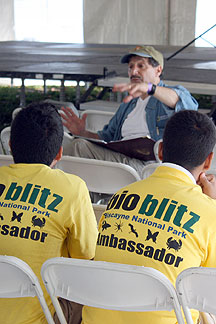 NPS/Ginny Reams
Friday, 9:56 a.m. - BioBlitz Presentations
Dr. Peter Dratch, of the National Park Service Natural Resource Program Center, kicked off the BioBlitz speaker presentations with a talk about threatened and endangered (T&E) species of South Florida. Learn more about the T&E
plants
and
wildlife
in Biscayne.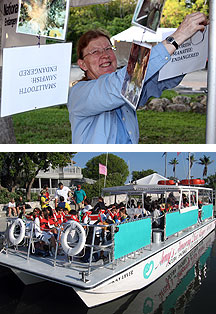 NPS/Ginny Reams & Todd M. Edgar
Friday, 9:05 a.m. - Final Preparations
Just under three hours until the actual BioBlitzing begins and there is lots of great activity going on at Biscayne National Park. Booths are being set up with great information, school groups are heading out with park rangers, and boats are loaded and taking the first of the BioBlitzers to offshore locations.
Soon, presentations will start on the main stage area. The weather is great and everyone is looking forward to a hugely successful event!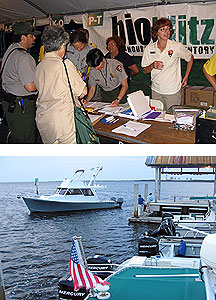 NPS/Todd M. Edgar
Friday, 7:05 a.m. - Early Morning Happenings
In the wee hours of the morning, park staff, volunteers, and scientists started to register and make final preparations for the big event. Boats are being readied, equipment is being checked, and everyone is chatting about what discoveries the day may hold.
There are still several hours until the official start of the Biscayne BioBlitz at high noon today. All of these preparations by all of these people will help to produce a great inventory of the plants and animals found in the park—and all in one mighty 24-hour push!
Stay tuned as we'll be posting highlights throughout the event.
Follow us on Twitter!

Get regular updates on park resources and happenings! Read More

National Geographic

is sponsoring a BioBlitz in a different National Park every year leading up to the NPS Centennial!