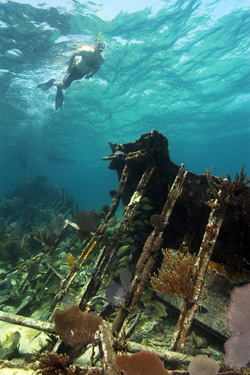 General management plans guide park management actions in order to achieve the park's mission of resource preservation and protection for the education, recreation and enjoyment of present and future generations.

Biscayne National Park released its final general management plan on June 5, 2015. The plan is designed to restore the park's coral reef ecosystem and improve visitor experiences. It is a key part of the park's responsible management and was crafted with extensive involvement from the public and local, state, and federal agencies. The plan is a guide for perpetuating natural systems, preserving cultural resources, and providing opportunities for high-quality visitor experiences for the next twenty years. It helps ensure that the park's vital and extraordinary coral reefs, mangrove forests, extensive tracts of Biscayne Bay and the Florida Keys, and 10,000 years of human history, are protected for future generations.

Increasing pressure from recreational use, fishing, and development have taken a toll on Biscayne National Park over the past few decades. Recent science indicates that park reefs are degraded due to coral bleaching and depleted fish populations. The public expressed similar concerns about reef conditions. The park received about 43,000 unique public comments, many from public workshops, over the years as the plan took shape. These comments conveyed the desire for action to be taken to restore the coral reef ecosystem and improve the visitor experience of the park.

The park's general management plan includes a no-fishing marine reserve zone. It will be the primary tool used to improve the declining reef's condition. A marine reserve is one of the most effective ways for the park to encourage restoration of the coral reef ecosystem. In addition to producing larger fish and more fish for snorkelers and divers to enjoy, the marine reserve is also expected to have a spillover effect, improving the fishing experience outside the zone. The marine reserve concept received strong support from the public during development of the plan.

The plan will be gradually implemented depending on available funding and staffing. Implementation of the marine reserve zone will occur after a special park regulation is issued. The regulation will define the various aspects and requirements of visitor access within the zone.

The National Park Service values the public's interest in Biscayne National Park. Continued public involvement is critical to success of park management actions. The park continues to work cooperatively with partner agencies, especially the Florida Fish and Wildlife Conservation Commission and the National Oceanic and Atmospheric Administration's Fisheries Service.

Please visit the National Park Service Planning, Environment & Public Comment website for copies or more information about the park's general management plan.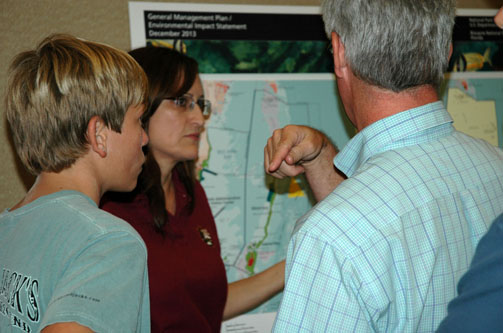 Matt Johnson
Elsa Alvear, Chief of Resource Management and Planning, discusses General Management Plan alternatives at a public meeting in Coral Gables in 2013.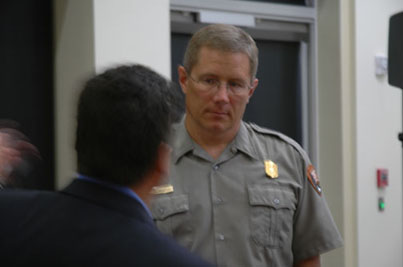 Matt Johnson
Superintendent Brian Carlstrom answering questions from the public on the General Management Plan in 2013.