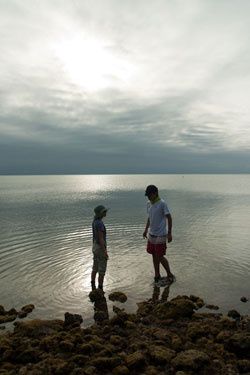 Thomas M. Strom
Managing America's national parks requires a careful balance between use and preservation. We want visitors to see, enjoy, experience and learn from these special places while ensuring the very reasons these parks were preserved by the American people are not jeopardized. At Biscayne National Park, our management goal is to protect the precious resources entrusted to our care while offering rewarding experiences for all visitors, including boaters, sightseers, anglers, snorkelers, divers, kayakers, birders, and glass-bottom boat tour passengers.
A General Management Plan, or GMP, is the main document that guides park operations. The goals of a comprehensive and effective GMP are to preserve and protect natural and cultural resources and provide for visitor experiences consistent with the park's purpose. GMPs often involve extensive scientific review and always include invitations for public participation to ensure that the decision-making process is informed, balanced, and inclusive.The GMP will lay the groundwork for ensuring the future of this spectacular place known as Biscayne National Park.
GMPs require the National Park Service to make hard decisions, some of which may be unpopular with some park constituents. All decisions reflect our best efforts to protect the resources and values for which these parks were established and to strike that delicate balance between protection and use. A Supplemental Draft Environmental Impact Statement for park's General Management Plan (GMP) was released on Nov. 15, 2013. In developing the supplemental plan the park is working closely and cooperatively with partner agencies, especially the Florida Fish and Wildlife Conservation Commission and the National Oceanic and Atmospheric Administration's Fisheries Service. The NPS preferred alternative proposes a new and creative approach to park management. This new approach proposes a special recreation zone (SRZ) and utilizes adaptive management strategies to provide a more enjoyable and diverse visitor experience and achieve the goal of a healthier coral reef ecosystem.
What the plan WON'T do
The General Management Plan is NOT a Fishery ManagementPlan. The park is collaborating with the State of Florida and working tofinalize a separate, park-wide Fishery Management Plan.
Stay informed
If you would like to receive the most up-to-date information on public meetings, management plans, and other park planning news, please subscribe to our mailing list by sending us an email with "Subscribe" in the subject line.